Amritsari Stuffed Kulcha Recipe is the best Indian bread recipe in Amritsar Punjab. This Indian recipe is perfect for breakfast, lunch or dinner. Also known as Amritsari Naan, I can easily have the Kulcha with just a tangy green chutney. However, try it once with Amrissari Dal. It tastes like heaven.
The Punjab is famous for its delicious North Indian cuisine, and Amritsari Kulcha is one of them. Amritsari Kulcha naan is also very popular in Delhi.
I can say that there are some very famous Kulcha in Paschim Vihar and Pitampura in Delhi. However, But with hygiene and health consideration in our day to day food, I like to cook most of these delicacies at home.
You will need very few ingredients to start preparing the Amritsari Kulcha recipe. This crispy kulcha is stuffed with spicy potatoes stuffed into a crispy brown bread.
Usually, Amritsari kulcha is baked in a tandoor or clay oven. However, most of us in the city do not have access to the tandoors. So, I'll show you how to make Kulcha without a tandoor. You can make Kulcha or Naan from a Tawa/Iron hot plate.
Amritsar serve this Aloo Kulcha with Chole. You can make the best Amritsari Chole recipe with Amritsari kulcha. The best thing about Kulchas is that they retain their softness even when they are cold. It's not as difficult as naan, and you can do it before and after.
After much trial and error, I finally decided for this Kulcha recipe. I experimented with many different ingredients while making the dough for Amritsari Kulcha. I always make kulcha dough with hot skimmed milk. It Keeps the dough soft and fluffy.
Being a Punjabi, I love making authentic Punjabi food at home. Amritsari Kulcha or Stuffed Paratha. People love to ask me how I make such fluffy stuffed parathas, but I am giving you the secret to making healthy stuffed parathas.
These soft Authentic homemade Amritsari kulcha recipe is easy to prepare and hassle-free. Take a close look at the menu and follow the simple steps to make this fluffy and satisfying Amritsari Kulcha.
Amritsari Kulcha in Amritsar
HOW TO MAKE AMRITSARI KULCHA-AMRITSARI KULCHA RECIPE
Use warm milk when baking the dough for amritsari kulcha.
Cover the dough (after kneading) with a clean cloth for 45 minutes.
Use your hands to flatten the dough. You can spread some ghee on your palms for easy flattening.
Always add ghee when making kulcha. This makes the kulcha fluffy and easy to cut into shapes you like.
Flatten the dough with your hands to make the kulcha and use your hands to apply water to one side of the kulcha. Use that side to stick it on the pan. The water makes the kulcha to stick in the pan.
When cooking Amritsari kulcha, Use the tawa as usual. Amritsari Kulcha is easy to make with regular tawa because the tawa is cooked over a fire. If you are running short of time you can use the oven too.
Ingredients
To Make Amritsari Kulcha
2

 

Cups

 

Maida/ white flour

1

 

teaspoon

 

Sugar

1

 

teaspoon

 

Baking Soda

¼

 

teaspoon

 

Salt

¼

 

cup

 

fresh Yogurt

2

 

tablespoon

 

Ghee

1

 

cup

 

Warm Milk
To Make Potato Stuffing
1

 

cup

 

Boiled potatoes

1

 

cup

 

chopped Onion

Coriander leaves

Mint Leaves

1

 

teaspoon

 

grated Ginger

1

 

teaspoon

 

Green chillies

Salt to taste

1

 

teaspoon

 

Red Chilli Powder

1

 

teaspoon

 

Chaat Masala

1

 

teaspoon

 

Crushed Coriander

½

 

teaspoon

 

Ajwain/ Carom Seeds

¼

 

teaspoon

 

roasted Cumin Powder
Steps to Make the Stuffing for Amritsari Aloo Kulcha
Take a bowl and put 1 cup of boiled potatoes in it.
Then add 1 cup of chopped onion, coriander leaves, mint leaves and 1 teaspoon of chopped ginger.
Then, in a bowl, add 1 teaspoon of minced green chili, 1 teaspoon of salt and red pepper powder to taste, 1 teaspoon of cat masala and ½ teaspoon of roasted cumin powder.
After adding all the ingredients, mix well with a spoon. (You can use your hands to mix well.)
When the ingredients are well mixed, set aside.
After 15 minutes, remove the dough, spread the maida on the wooden table, roll the dough and fill with alu / potato filling according to step 1.
Then add the aloo / potato filling in the dough, flatten it. by hand, then apply butter to flatten the dough by hand. When the dough is flat, spread the coriander leaves and the dough on one side.
Lightly press the flattened bread some more so that the coriander leaves and ajwain stick on it.
Sprinkle some water on one side of the kulcha so that it sticks on the tawa. When it is done carefully place the naan on the hot iron griddle so that the side of kulcha with water placed down.
Steps to Tawa Cook Amritsari Kulcha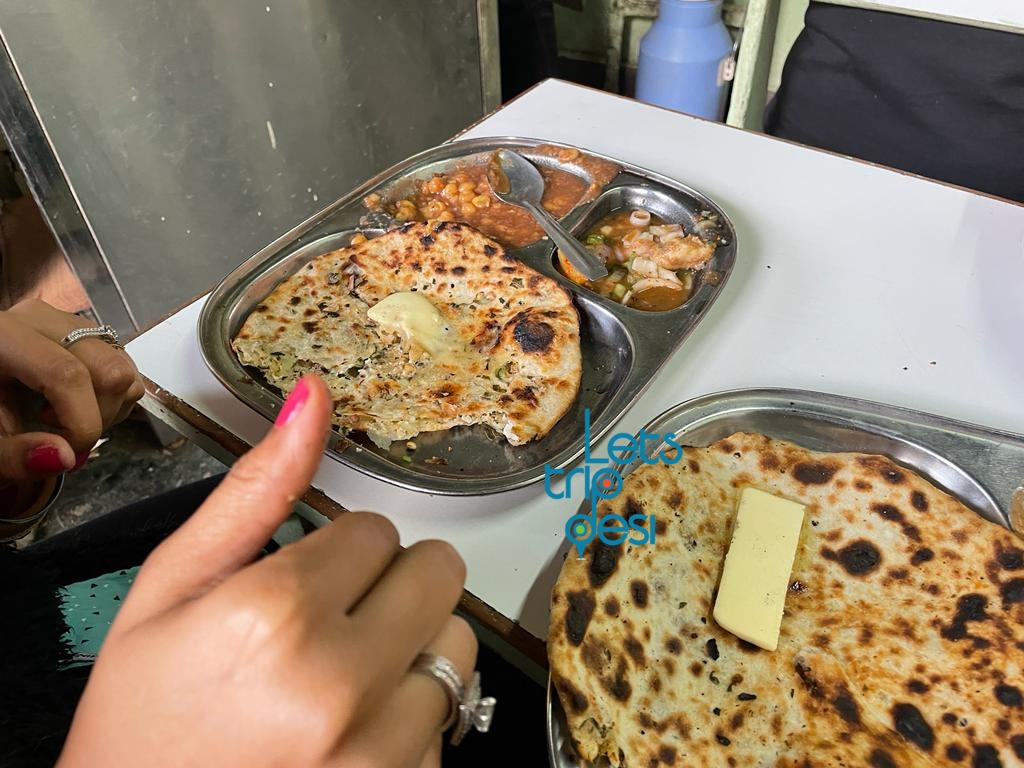 After 2 minutes, hold the Tawa side down and place it on the flame. One side of the naan should be cooked by the flame. Hold the tawa upside down and carefully cook each side of the naan. Keep the flame on medium.
Using a spatula, take out the naan when it's cooked.
You will see the beautiful chur-chur (layers) of the naan. Pour an ample amount of ghee on the naan and serve with green chutney.