Best Things to do at Phuket Thailand Here is detail of Phuket nightlife at phuket Visiting place, Beaches, Nightlife deep detail of all place to visit
The Best Things to Do in Phuket
Whether you are looking for a relaxing holiday, a deep cultural experience, or an active adventure, nightlife at phuket, Phuket deserves a place on every traveler Thailand bucket list.
So here are the 10+ top things to do in Phuket, including religious sights, outdoorsy adventures, markets, cultural activities, and viewpoints including nightlife at phuket.
Visit Wat Chalong
Phuket has 29 Buddhist temples, but Wat Chalong is the biggest and most popular.
The entire temple complex is very large, with landscaped gardens, golden statues, and stunning architecture.
Wat Chalong has a strict set of rules about dress code and respectful behaviour, as does every temple in Thailand.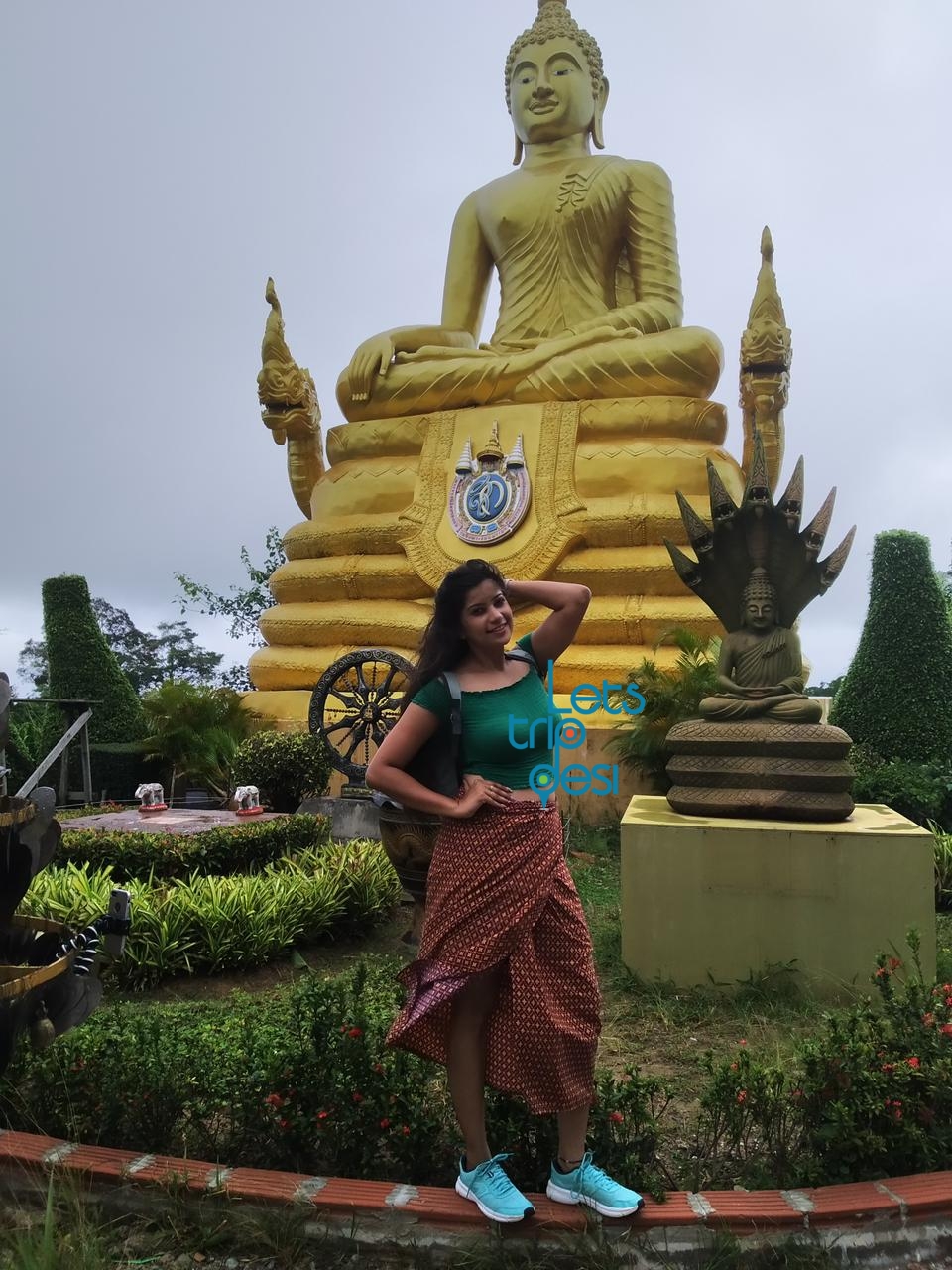 You must remove your shoes before entering a temple, and wear clothes that cover your shoulders and knees.
Location: 6 Chaofa Road, Tambon Chalong, Muang Chang Wat Phuket 83130
Hours: 7 am to 5 pm, open every day
Cost: Free
Hike to the Karon Viewpoint
Also known as the Kata Viewpoint, this hilltop lookout sits just south of Kata Noi Beach.
It offers spectacular views of the turquoise Andaman Sea and the surrounding beaches and towns of Phuket.
The third name for this lookout is the "Three Beaches Viewpoint" because you can see the nearby Kata Noi, Kata and Karon beaches from the top.
If you want a bit of exercise, you can hike to the viewpoint from the Karon neighborhood.
Most of the walk is just along the main road, and it takes usually 45 minutes to an hour depending on where you start.
Just ask the staff at your accommodation for directions.
Location: 4233 Karon, Mueang Phuket District, Phuket 83100
Hours: Open all day, every day
Cost: Free
Explore Phuket Old Town
In the southeast corner of the island lies Phuket Old Town, a scenic neighborhood revealing remnants of the island's colonial past.
Phuket used to have a thriving tin mining industry, so Sino-Portuguese, Chinese and Malay immigrants flocked here and became rich off of the popular metal.
Nowadays, the colourful architecture and elaborate mansions of the wealthy foreigners still stand, so travelers can catch a glimpse of the different cultures that planted their roots here.
Phuket Old Town has lots of Buddhist and Chinese temples, museums, boutique shops, cafes, and even an old red-light district.
The two main streets where most of the attractions lie are Soi Romaine and Thalang Road.
Experience the Phuket Weekend Night Market
On the topic of street markets, this is Phuket's largest night market.
Locally known as the "Naka Market," The Phuket Weekend Night Market is massive, nightlife at phuket with an indoor section selling mainly clothes and souvenirs, and an outdoor, nightlife at phuket open-air section selling everything else.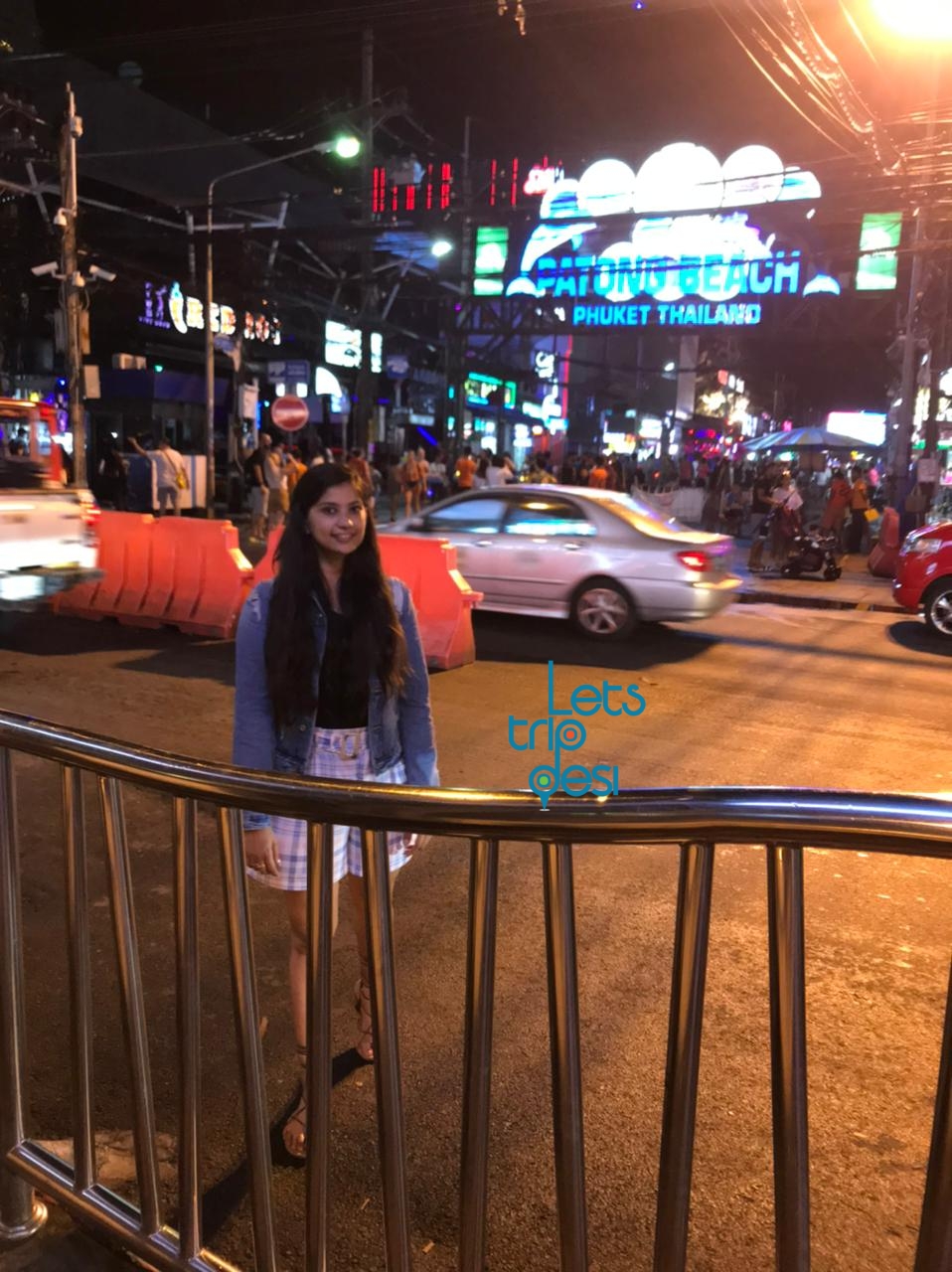 You can find everything from second-hand shoes, to CDs and movies, to fresh fruit and stands selling corn on the cob and deep-fried insects nightlife at phuket.
nightlife at phuket Strolling around this market is truly an adventure, and you'll probably see some crazy things.
nightlife at phuket Try to visit the market as early as possible because the crowds can get insane.
Also try and walk there if you can because there aren't many places to park, nightlife at phuket especially later in the evening when it gets busy.
Location: 7 Wirat Hong Yok Road, Phuket Town, Muang, Phuket 83000
Hours: 4 pm to 10 pm, every Saturday and Sunday
Parasail over Patong Beach
Patong Beach is one of the busiest and most touristy beaches on the island.
Though it isn't the most peaceful beach, it is still beautiful and there are tons of tour companies offering fun activities like parasailing.
This water sport seems a little scary at first, but it is super fun for those who want an adrenaline rush.
You are basically strapped to a seat that hangs down from a parachute, which is tied to a motorboat by a rope.
As the boat accelerates, the wind catches the parachute, lifts you up and you glide through the air behind the boat.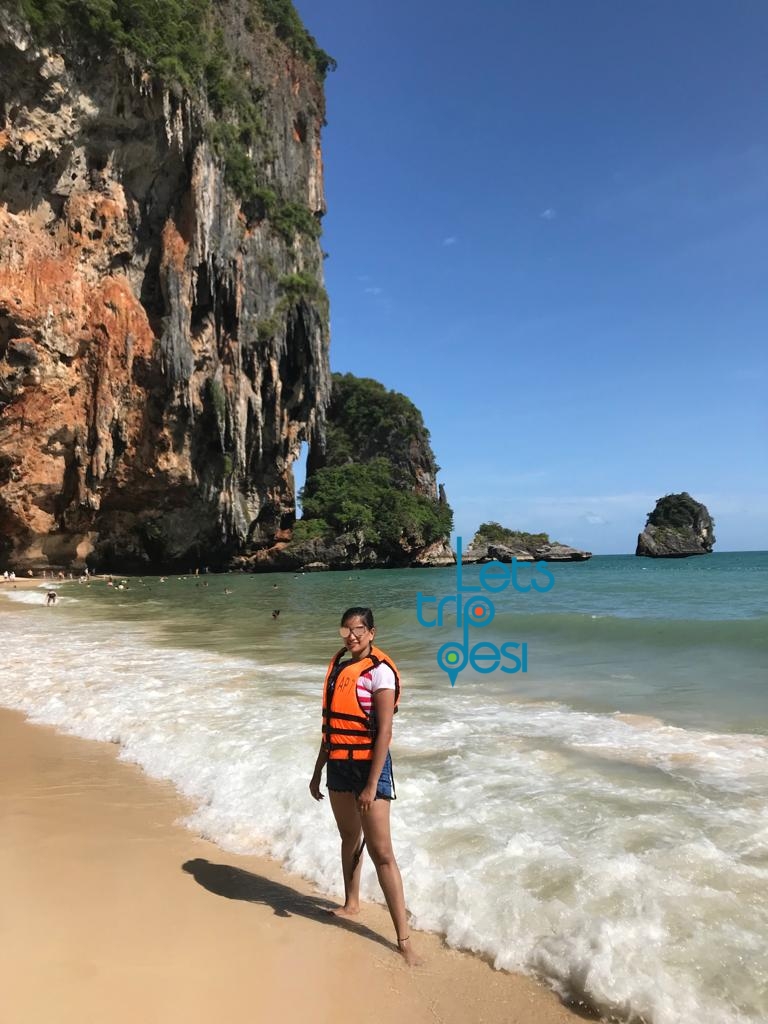 Parasailing is an exciting way to experience Patong Beach.
Just make sure you ask for the prices at lots of different tour operators before booking so you can compare the costs.
Location: Patong Beach, Kathu District, Phuket 83120
Cost: Anywhere between 800 Baht and 1,300 Baht per ride
Also Read : Things to Do in Thailand and Unknown Facts that you should Know
Admire the Big Buddha
Visiting the Big Buddha is definitely one of the top things to do in Phuket.
Made of white Burmese marble and standing at a whopping 45 meters tall, the Big Buddha is a magnificent landmark of the island.
Construction of the Big Buddha began in 2004, so it is a relatively new structure and is very well-maintained.
Sitting high on top of Nakkerd Hill, this spot offers lovely panoramic views of the island as well.
Try to visit the Big Buddha as early as possible to avoid the tour buses that stop here during tours of the island.
The road leading up to the Big Buddha starts at Chalong Circle and is a winding
The road leading up to the Big Buddha starts at Chalong Circle and is a winding uphill drive, but there are plenty of signs to guide the way.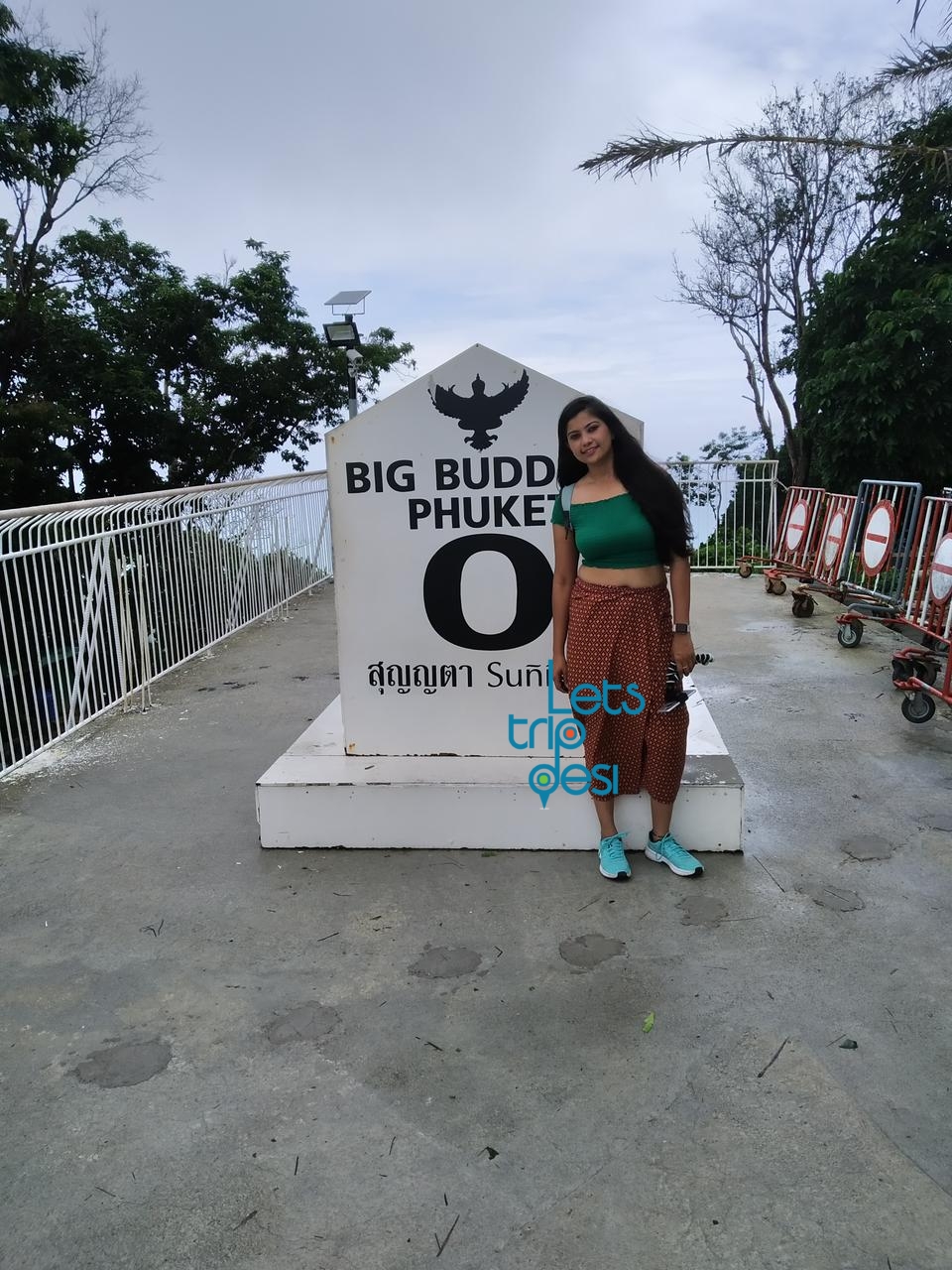 Location: Soi Yot Sane 1, Chaofa West Road, Chalong, Phuket Town, Phuket 83100
Hours: 6 am to 7 pm, open every day
Cost: Free
Learn to Make Cocktails at Chalong Bay Rum Distillery
Tasting and learning about local alcohol is a great insight into any culture.
Visit the Chalong Bay Rum Distillery, one of the best Phuket attractions, to taste rum made from organic Thai sugarcane and learn about the rum-making process.
Between 2 pm and 6 pm, you can take a 30 minute guided tour of the distillery to learn about the art of making rum, and you'll get to try a classic Chalong Bay Mojito.
To become even more of a rum expert, you can take a 2-hour cocktail workshop.
Held every day at 4 pm, the workshop includes a tour of the distillery, lessons on making 3 different cocktails, and tapas. Try to book this workshop in advance in case it sells out!
You can also just visit the distillery during their daily hours of operation and look
around and eat at the restaurant if you don't have time for a tour or a workshop.
Location: 14/2 Moo 2 Soi Palai 2 T. Chalong A. Muang, Phuket 83130
Hours: 11 am to 11 pm, open every day
Cost: 450 Baht for a guided tour, 1700 Baht for a cocktail workshop
Soak in the Views from Khao Khad Viewpoint
For an uncrowned viewpoint over the city, head to the top of a high and remote hill on the island's southeast peninsula.
Here lies Khao Khad Viewpoint, also known as the Panwa Viewpoint. Best Phuket visit place local because it's located in Phuket's Cape Panwa region.
This lookout provides gorgeous views over the turquoise waters and rugged outlines of Phuket's southern coast.
You can see Phuket Town when you look north, and in the other directions, you can see various beaches and islands mingling with the ocean.
The lookout structure has two levels and you have to climb 200 steps to get there.
But there usually aren't many tourists here, as it is less popular than Phuket's other viewpoints.
Location: Sakdidet road M.8 T.Wichit A.Muang Phuket, Cape Panwa, Phuket, 83000
Hours: 6 am to 6 pm, open every day
Cost: Free
Beach-Hop Down Phuket's West Coast
Of all the things to see in Phuket, beaches of phuket the beaches are probably the best.
The sight and sound of turquoise waves rolling over the soft golden sand never gets old, beaches of phuketso be sure to pack plenty of beach days into your travels around Phuket.
There are so many beaches on the island it seems impossible to visit them all, so here is a list of some of the best ones.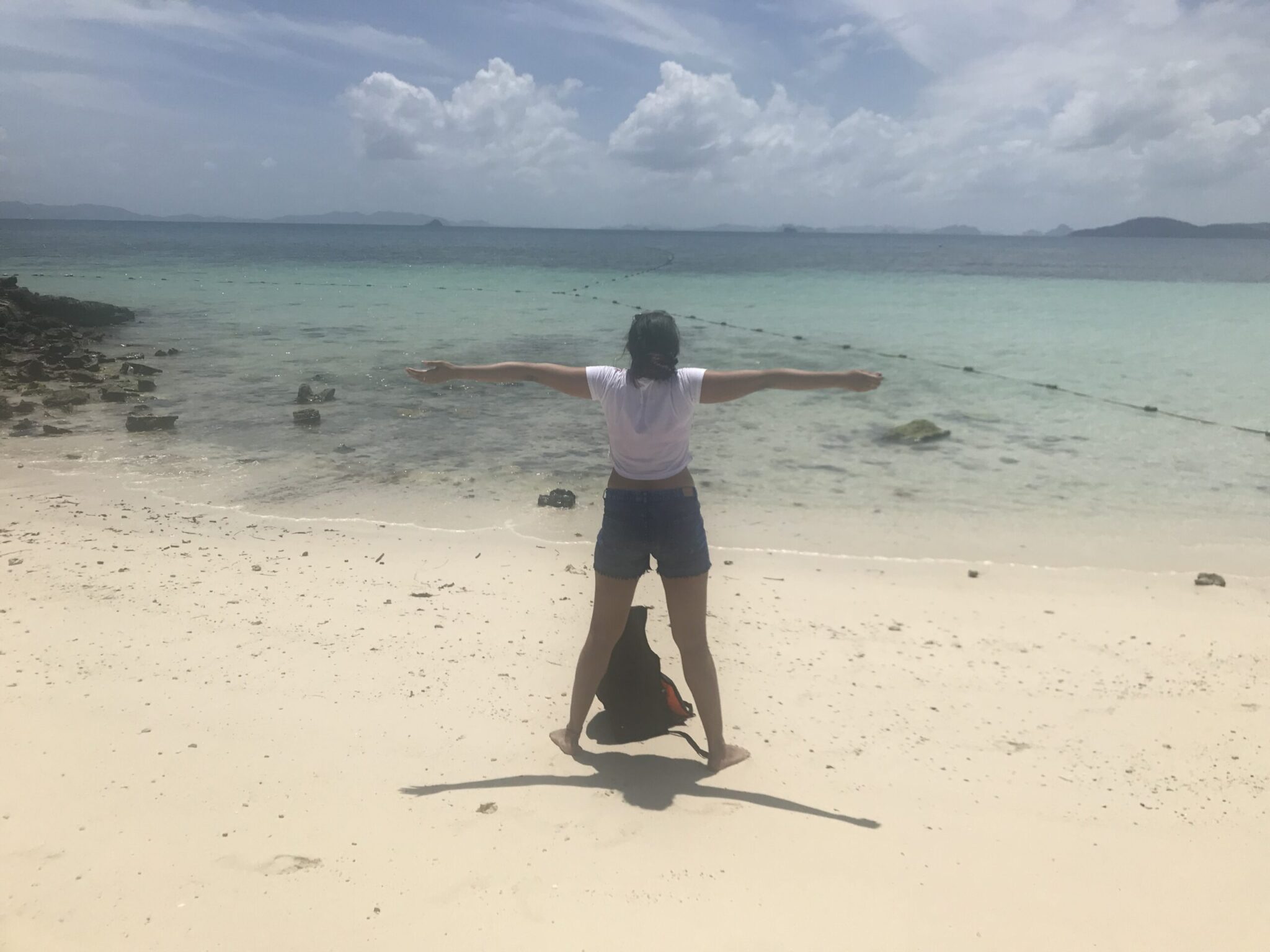 The most beautiful beaches are on the west side of the island, so this list will start in the north and list beaches heading south down the west coast.
Mai Khao Beach is located just north of Phuket Airport and is the island's longest beach (11km long).
Nai Yang Beach is inside Sirinath National Park, so there isn't much development to detract from the natural beauty and serenity of the area.
Bang Tao Beach has refreshing, clear blue waters and is pretty large at 8km long.
best Phuket visit place local beaches of phuket Surin Beach is lined with fancy hotels and ritzy bars and restaurants, so it has an exclusive, beaches of phuket almost luxurious atmosphere.
beaches of phuket Freedom Beach is quite small at only 300m long, but it offers great snorkelling and jaw-dropping scenery.
Kata Noi Beach is the smaller, less crowded neighbor of Kata beach. Both are incredibly beautiful with plenty of restaurants, hotels, and amenities nearby.
beaches of phuket Karon Beach is one of the island's more popular beaches, but it is quite spacious so it never feels too crowded.
Nai Harn Beach has only recently become known to tourists, beaches of phuket so its rugged coastal scenery and relaxing local vibe remain intact.
Rawai Beach is actually on the southern coast of Phuket. beaches of phuket It is one of the oldest beaches on the island and you can watch the local fishermen at work.
Stroll Through Chillva Market
Of all Phuket's markets, Chillva Market is one of the newest.
It attracts a younger, best Phuket visit place local crowd with its trendy shops and quirky, bohemian atmosphere.
Old shipping containers house lots of the shops and colourful decorations and tea lights bring a vibrant energy to the market.
Chillva Market is also quite small compared to the other night markets in Phuket, so it feels more intimate and relaxed.
You can find interesting clothes, accessories, and shoes here as well as delicious local food and live music.
Location: 141/2 Yaowarat Road, Phuket Town
Hours: Shops in shipping containers are open every day from 5 pm to 10 pm. The full market is Thursday to Saturday from 5 pm to 11 pm.
Venture to the Bang Pae Waterfall
This is one of the best things to do in Phuket for nature lovers.
Spend a day venturing into the lush forest near the eastern coast of the island and find the Bang Pae Waterfall.
Located in the Khao Phra Thaeo National Park, this is the biggest waterfall in Phuket, standing at 18 meters tall.
The rainy season (May through October) is the best time to visit the waterfall due to the increase in rainfall.
During the dry season (November through April), the rock pools may not be deep enough to swim but you can still take cool photos and soak in the serenity of nature.
Phuket's second-highest waterfall, Ton Sai Waterfall, resides near the Bang Pae Waterfall in the same national park, so you could even see both in one day.
Location: Pa Klok, Thalang District, Phuket 83110
Hours: 8 am to 6 pm, open every day
Cost: 200 Baht entrance fee for the Khao Phra Thaeo National Park
Take a Tour of the Surrounding Islands
Spending a day hopping from island to island is definitely one of the best things to do in Phuket, Thailand.
Thailand has over a thousand islands, and it would be very difficult to see them all but a half-day island-hopping tour by boat can help you at least catch a glimpse of the pristine beauty of the Thai islands.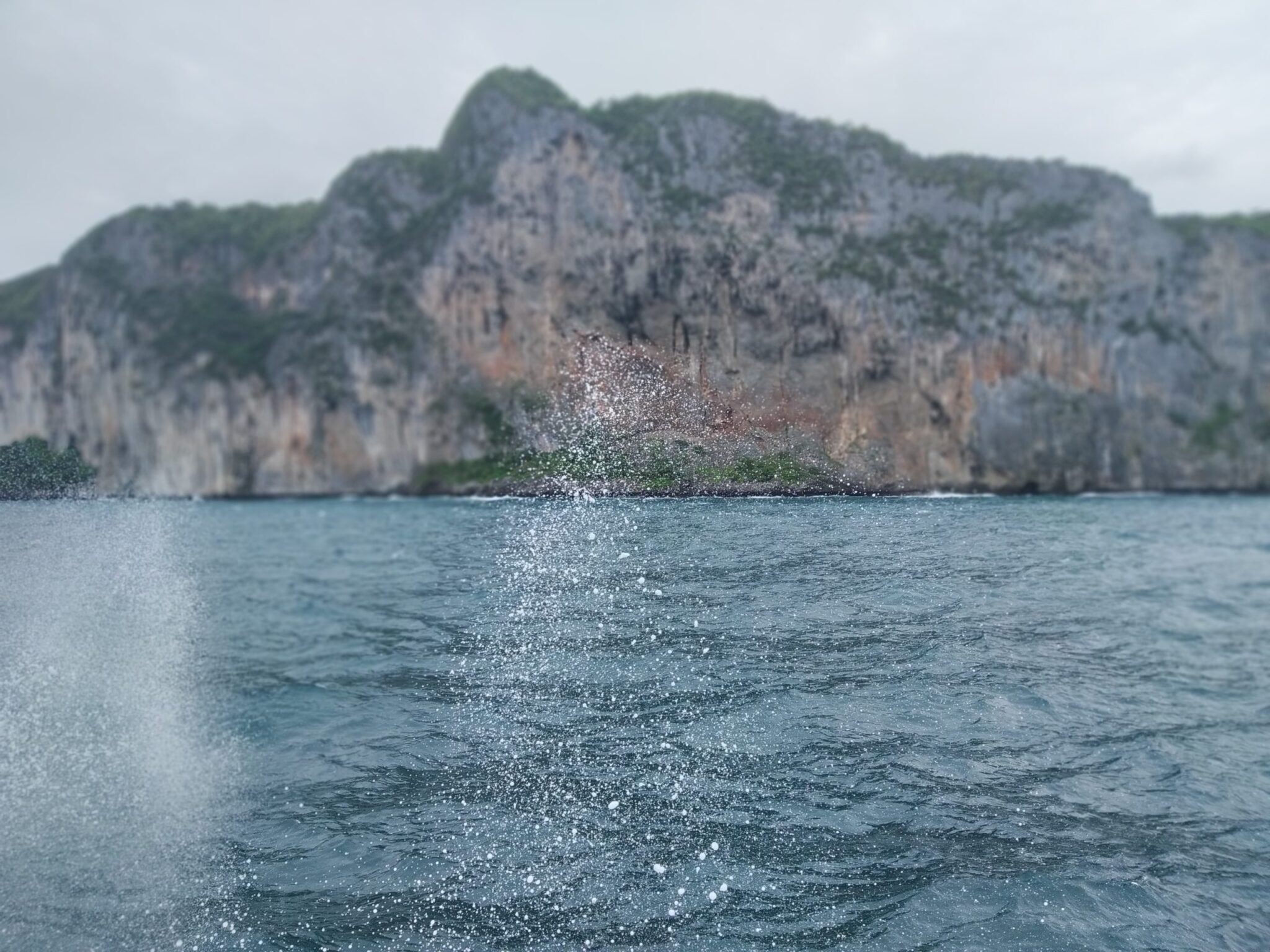 Phuket makes a perfect starting point for an island tour because there are so many tour companies offering different packages for different prices that suit any traveller.
Most island tours stop at a few different islands and finish in the early afternoon, so just pick which islands you want to see and find a tour that hits those spots.
One of the most popular places to visit on an island tour is Phang Nga Bay, where the towering limestone rock formations were made famous by a James Bond movie.
Challenge the Mind at the Phuket Trickeye Museum
This interactive museum in Phuket Town is entertaining for people of all ages.
Full of detailed and realistic 3D paintings and scenes. People can pose in certain places and look like they are part of the painting. You have to remove your shoes to keep all the paintings clean. As you will be climbing all over them. Bring a camera and have a blast taking hilarious photos with these beautifully crafted scenes.
Location: 130/1 Phangnga Rd, Talat Yai, Mueang Phuket District, Phuket 83000
Hours: 10 am to 7 pm, open every day, the last admission at 6 pm
Cost: 450 Baht ticket
Visit the Karon Temple and Market
Wat Karon is another magnificent temple in Phuket, and it is home to a bustling market every Tuesday and Friday.
So after checking out the temple, you can wander around and shop for local products while snacking on street food.
This market sells mainly clothes and accessories, including scarves, sunglasses, and handbags.
You can also find health products made from locally sourced ingredients, such as coconut oil, aloe vera and handmade soaps.
Location: Wat Karon on Patak Road, Karon, Mueang Phuket District, Phuket 83100
Hours: Every Tuesday and Friday from 4 pm to 10 pm
Cost: Free
Go Diving
If you are a certified scuba diver, there are some incredible underwater sites. Around Phuket that you can visit as a day trip. Book a day tour with any of the tourism companies on the island and go scuba diving in the Andaman Sea.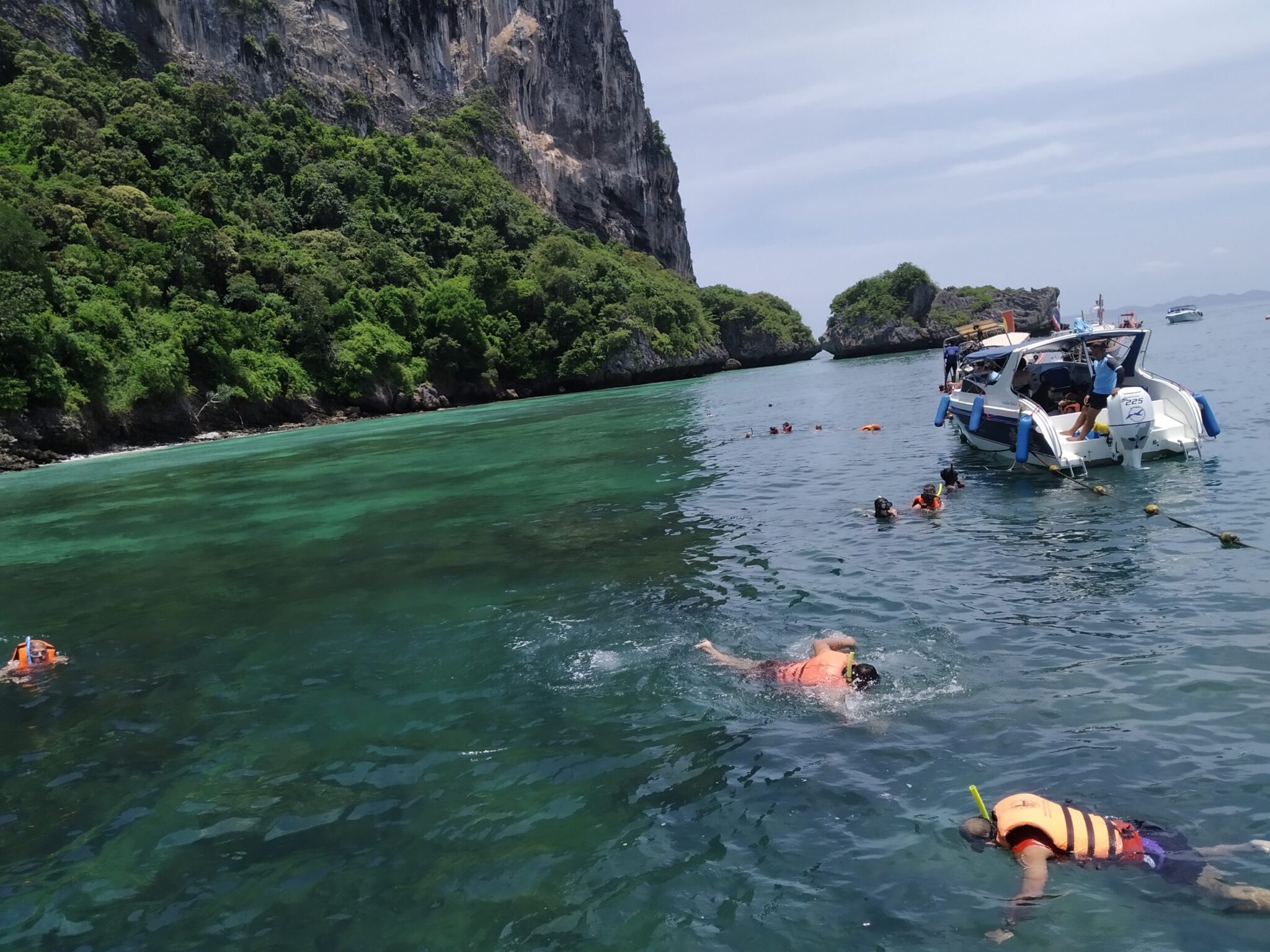 Most scuba diving trips leave from Chalong. so you'll need to make your way to that part of the island first.
The best time for diving in Phuket is from November through April, during the dry season as the water visibility is the best.
But you can still go diving during the rainy season, May through October, as the water is still quite clear despite the frequent thunderstorms.
The water is pretty warm year-round and there are lots of aquatic wildlife including manta rays, seahorses, reef sharks, colourful fish, and fascinating coral reefs.
Some popular diving sites that may be included in a day trip include Shark Point and Anemone Reef.
King Cruiser is a shipwreck from 1997 that is cool to explore as well, and the nearby Racha Islands and Koh Phi Phi Islands also offer amazing diving.
Bangla Road, locally known as Soi Bangla and alternatively known as Patong Walking Street. Is a 400-meter strip of excitement. Located in the heart of Phuket's Patong area. nightlife at phuket This bustling street is right next to Patong Beach and surrounded by restaurants, cafes, bars, and nightclubs.
Waking down this street is like an explosion of colour. With neon lights and colourful shop fronts crowding your line of vision.
Your senses may feel like they're on a roller coaster, with the pumping music of clubs mixing with the aromas of street food and the visual chaos.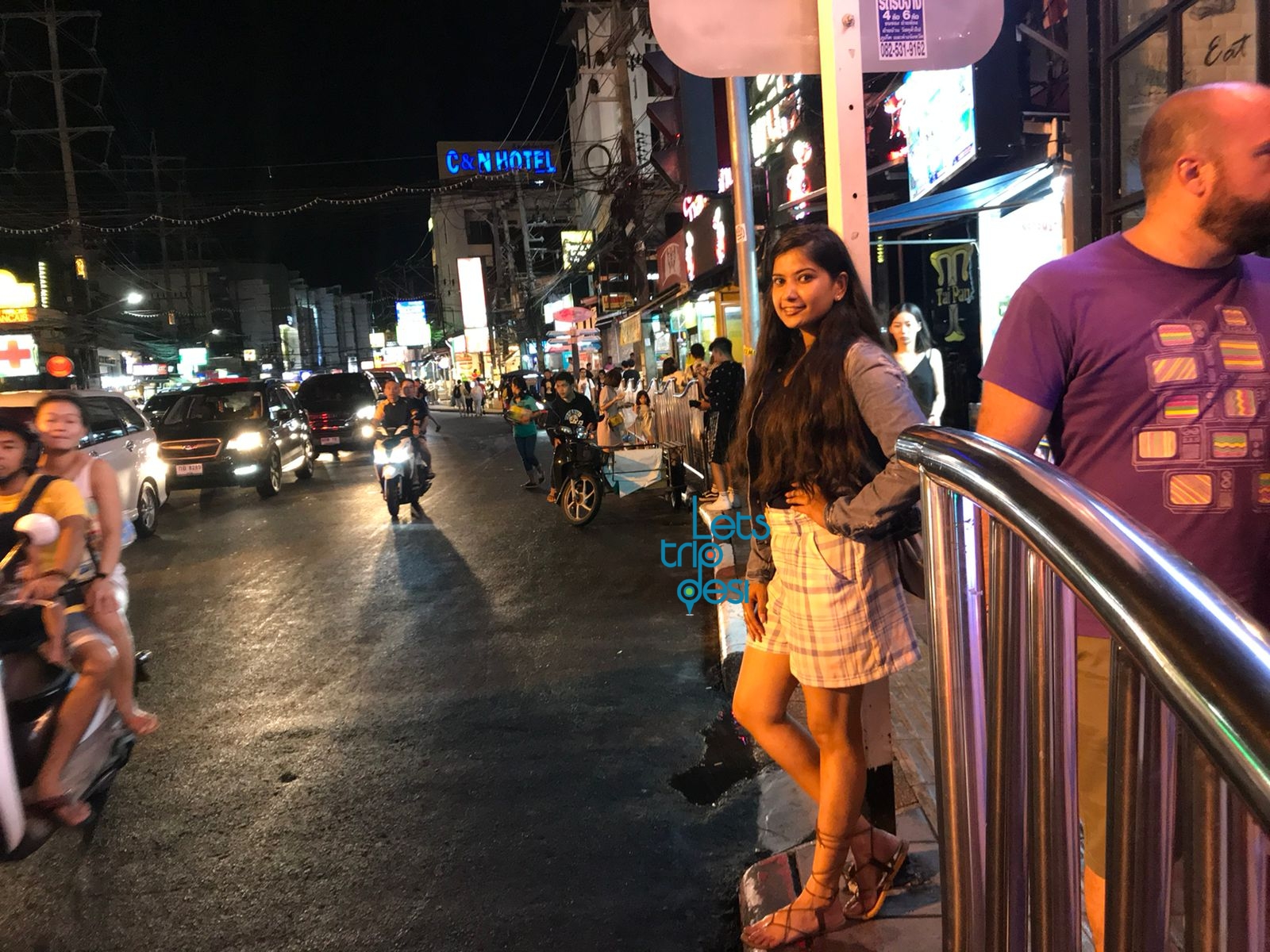 .
Bangla Road is pedestrian-only, so you don't need to worry about vehicle traffic while exploring.
From the live music and street performers to the beer gardens and cocktail bars to the street vendors and restaurants, Bangla Road has everything you need for a fun night out in Phuket.
Location: Bangla Road in Patong, right across from the massive Jung Ceylon Shopping Center
Hours: Gets busy every single night, more so on weekends
Visit the Jui Tui Shrine
Over 90% of the Thai population practices Buddhism. Though there are religious minorities of Hinduism and some Chinese religions scattered throughout the country.
Phuket has quite a few Chinese immigrants and their Chinese religions are commemorated in various temples and shrines around the island.
One of the most popular and highly respected Chinese religious monuments is the Jui Tui Shrine.
Built in 1911, the Jui Tui Shrine complex has lots of different buildings and courtyards, phuket visit place most adorned with bright colours and images or statues of Chinese gods.
Phuket's annual vegetarian festival is held here every October.
Location: 283 Soi Phutorn, Tambon Talat Nuea, Mueang Phuket District, Phuket 83000
Hours: 8 am to 8:30 pm, open every day
Cost: Free
Attend a Simon Cabaret Show
For a fun night of music and entertainment, head to the Simon Cabaret. Established in 1991. Simon Cabaret has become one of the most popular entertainment venues in all of Thailand.
The Lady boy shows are the most famous. Where the local lady boys put on a spectacular performance with elaborate costumes. Impressive singing and dancing, captivating sets and a lively atmosphere.
The one-hour shows are even appropriate for families. And you can take photos with the fabulous performers afterwards.
Location: 8 Sirirach Road, Patong Beach, Kathu, Phuket 83150 Thailand
Hours: Shows start at 6 pm, 7:30 pm and 9 pm, every day
Cost: 1,000 Baht
Watch the sunset from Promthep Cape
This viewpoint on the southern tip of Phuket offers some of the best views on the island. Though it can get pretty crowded, it is worth coming up. Here in the evening to watch the sunset over the ocean. Phuket visit place There is also a Lighthouse Museum, phuket visit place a mini-market selling food and snacks and a few restaurants. beaches of phuket Check the sunset time before you come here, as the exact times change often and the sunsets are usually very quick.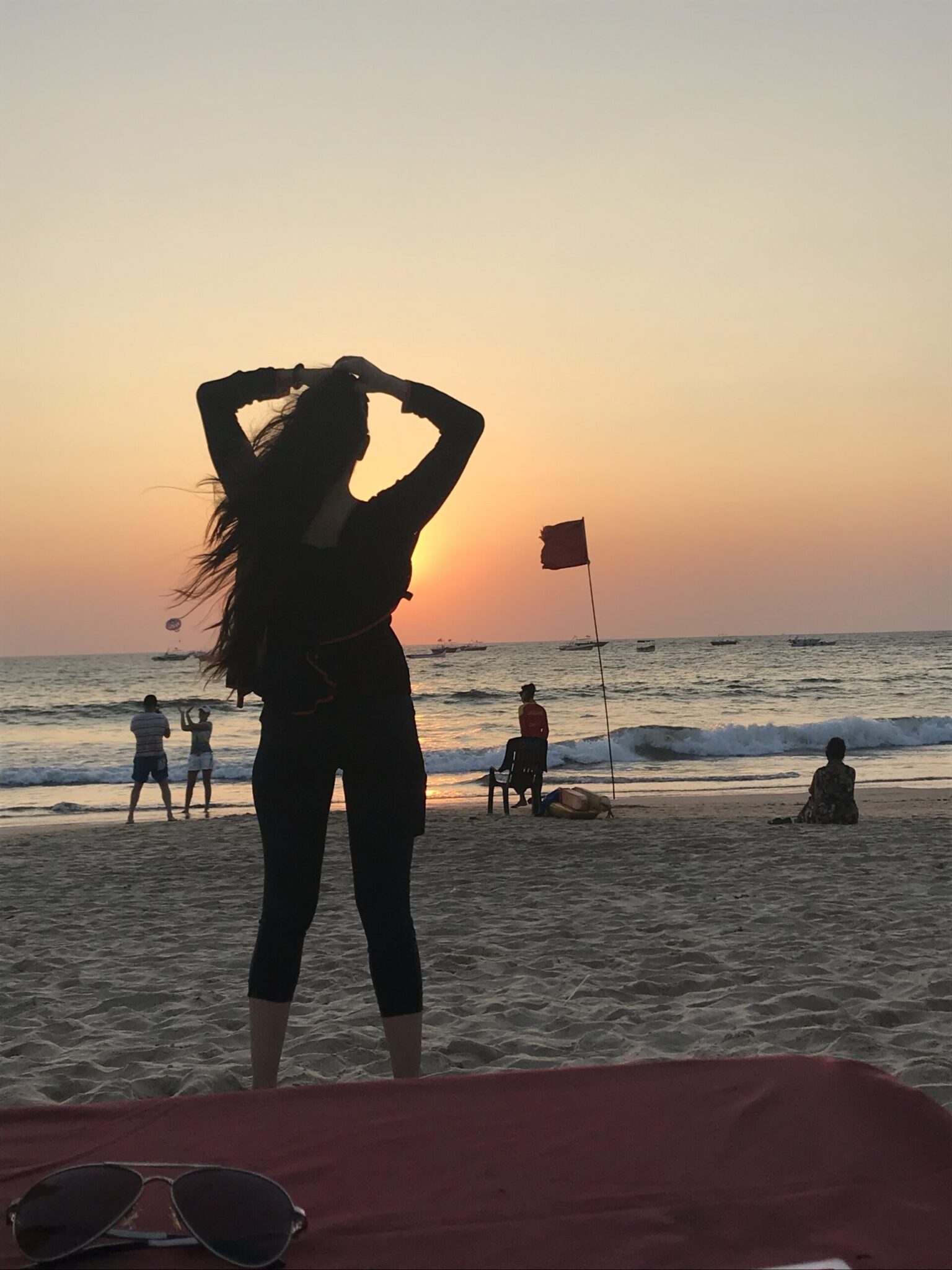 But catching the view of the warm sun melting over the gorgeous ocean is one of the most magical things to see in Phuket, Phuket visit place so definitely make a trip up here at least once during your stay.
Location: Rawai, Mueang Phuket District
Hours: Open all day every day
Cost: Free
Also Read : Papaya Salad on the Streets of Phuket | Thai Cuisine | Street Food of Thailand
Phuket Travel Guide
Now you know the best things to do in Phuket, here are some tips on where to stay, nightlife at phuket how to get around and what to eat on this beautiful island.
How to Get Around Phuket
Phuket is a large island, Phuket visit place so you will have to dedicate a bit of time and money to travel around the island to all the best attractions.
If you're looking to book a private transfer from the airport, this is the best option you can book online.
Hire a Car or Motorbike
If you plan on spending a week or more in Phuket, hire a car or a motorbike.
That way you can abide by your own schedule and go wherever you want around the island.
Make sure you have a valid driver's license and travel insurance before renting any sort of vehicle, just to make sure you are covered if any accidents happen.
Road traffic in Thailand can get crazy, nightlife at phuket especially with all the motorbikes zooming around.
Just do your research and make sure you feel fully comfortable with your vehicle hire, nightlife at phuket to enjoy whether it is a motorbike or a car (4WD isn't necessary for car rental, most of the roads are easily accessible).
Take Public Transport
If you're only on the island for a few days and don't want to go through the hassle of hiring a car or bike, Phuket has plenty of public transport options.
Tuk-tuks are cheap and convenient for travelling short distances.
They are three-wheeled, open-air taxis that zip through traffic and are quite affordable depending on how far you are travelling.
Make sure you clarify the destination and the cost of the ride first, to avoid getting ripped off.
You can find regular metered taxis as well, with similar prices to Tuk-tuks.
Keep in mind that travelling long distances around the island using Tuk-tuks or taxi can add up to be quite expensive, so try not to drive too far if you want to save money.
You can also take public buses in Phuket; So they are pretty slow-moving but definitely the cheapest public transport option.
The buses run from roughly 7 am to 6 pm and just ask around at your local accommodation. Where the buses stop because there aren't reliable, specific bus stops.
What to Eat in Phuket
Best Phuket visit place local to eat many care you will find
There are so many different cafes, bars and restaurants around the island offering delicious Thai cuisine at cheap prices.
Because of the long coastline and active population of local fishermen. phuket visit place Because Phuket has some top-notch seafood so be sure to indulge.
You can also find all the classics of flavorful Thai cuisine, but like spicy curries and refreshing spring rolls.
Here are some of the best places to eat in Phuket, according to budget, mid-range, and luxury price ranges.