21+ Stunning Visiting Places in Bali Indonesia Island. Find Things to do and famous tourist Beach in Bali here is Full Info of island
Bali is unique and well-endowed when it comes to fun in the sun. visiting places in bali Rich in culture, people, nature, activities, food, nightlife, and beautiful accommodation, Bali is a paradise no matter whether for adventurer seekers, families with kids, couples, or food lovers.
beach in Bali is a magical place and has a lot to offer to travelers, from mountain villages and paddy fields to temples and beaches. If you are interested in finding out more about Bali and making full use of your time on Bali Island
Visiting Places in Bali (Indonesia)
Bali is one of the most popular travel destinations in the world, and with good reason, as this island which is know as the Island of the Gods is one of the most beautiful places on earth. Surround by azure seas and edge with golden beaches, Bali is of course a surfer's paradise. visiting places in bali and if you are looking for a beach holiday then there is no better place to find it than this gorgeous island set in the middle of Indonesia.
As well as sea and sand however Bali has a huge number of other attractions to enjoy such as temples, caves, waterfalls, museums, and markets, and if you like history and culture then you can spend hours learning the local legends and Balinese traditions in places like Ubud.
If you like adventure activities, then you also won't  disappoint on a trip here, and you can expect a fantastic array of water sports, muck and wreck diving, and the chance fly through the jungle canopy like Tarzan.
In short, whatever you want to do, you will probably find it in Bali and you can easily spend a month here and still only see a fraction of the sights on offer. The hardest part of a holiday here is choosing where to go first and what you want to see.
1. Sunset at Tanah Lot
Locate on a beautiful offshore rock in Tabanan regency. Bali, Tanah Lot or 'Land on the Sea' is a Hindu shrine believe about 500 years old. An amalgamation of Balinese and Hindu mythology, the base of the temple is carve with sea snakes and offers a natural source of holy water, providing visitors with an aesthetic and spiritual experience unlike any other.
The Tanah Lot temple can find some 300 metres (over 980 feet) off the island shore. It is one of seven temples along the Bali coast. In fact, from this beautiful rock temple, you can see the Pura Ulu Watu temple site on the cliffs to the south, and a long sweep of azure waters to the west, near Negara.
Visiting the top of Tanah Lot is reserve for priests and Bali locals. but tourists are allow to wander the base of the temple and receive blessings from the small shrine there. Because of its astounding architecture and intricate rock faces, set against the breath-taking Indonesian waters with a clear sight of the sun as it sets, Tanah Lot is consider a photographer's paradise.
2. Bali Swing
The Bali Swing is a location where there is a collection of 12 swings that make you swing over exotic locations, making you feel like you are flying over the clouds. Some swings are over valleys, some over waterfalls, and some over canyons. all the swings are a must-try. The tour services available their offer their services at varying prices, inclusive of different packages.
It gives a thrilling experience. It is one of the most beautiful experiences of swinging high above the valleys, paddy fields, waterfalls, huge mountain cliffs which give full adrenaline rush. That is why many tourists come to try this thrilling ride from across the world corners, to take part in this out of the world experience.
Most popular swings around Bali are:
1) Kaja swing
2)The Ubud swing
3) Alas Harum Swing
4) Uma Pakel
5) Wana Iri Hidden Hills Swing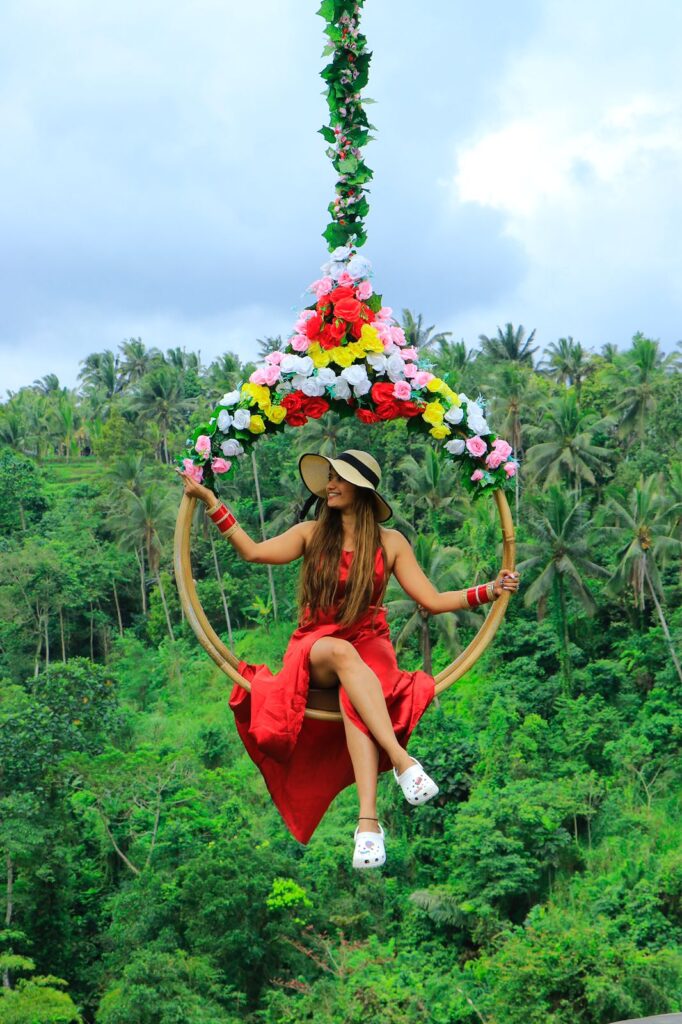 3. Go surfing in Kuta Beach
Kuta beach heralded the era of tourism in Bali. A few minutes away from the beach in  Bali airport, Kuta attracts hundreds of visitors to its golden sands and surf waves making it one of the busiest and liveliest beaches the country has to offer. A plethora of cheap options for accommodation, food and beach clubs make this ideal for young travellers seeking a fun beach holiday.
Kuta Beach is one of the scuba diving hotspots in beach in Bali island. There are several world-class diving sites located at a short boat ride distance from the main Kuta Beach. It is also a well-known destination for surfing. However, the shoreline can slight dangerous for beginners.
For those looking to relax, there are several spa and massage options available. As Kuta is one of the most competitive places, the prices are also the lowest. Many places even offer discounts for group purchases. You can spend your evenings at the beach, enjoying the wonderful sunset. Kuta Beach usually gets crowded towards the evening. If you wish for a calmer space, then you can head slightly north along the beach, where the crowds are relatively sparse.
Additionally, you can try out waterslides and vertical bungee jumping. You can also go shopping in the local markets, that are bound to test your bargaining skills. The area is full of all sorts of markets and stores, and everyone is trying to sell you something.
4. Ulu Watu Temple
Ulu Danu Temple lies at the edge of Baratan Lake in Bedugul in Bali.
This pretty building is dedicated to the goddess of the lake and is one of the quietest and most serene places on the island.
Make sure to check out all the different shrines, each one dedicated to a different god, and look out for the ornate architectural touches such as the intricate carved gates.
Situated at the south-western tip of Bukit in Bali island , visiting places in bali Uluwatu attracts surfers of all levels from around the world to its exciting shoreline. The waves are composed of five world-class surf breaks, and the hotels and restaurants overlooking the Indian ocean provide a magnificent view. The Pura Luru Uluwatu temple is another important attraction in this area.
Things to Do at Uluwatu
Uluwatu is a place to chill. Aside from surfing, there's not much activity. Here are a few of the things to do in Ulu Watu:
1. There are plenty of places to kick back, relax, and merely enjoy the scenery.
2. From warungs (traditional food stalls) to cafes and luxury restaurants, you're bound to find plenty of options for meals. The seafood, in particular, is great.
3. If you're looking to go shopping, you'll find mostly souvenir stores selling items like seashell necklaces, t-shirts, corals, etc.
4. In terms of accommodation, there are plenty of villas and resorts available for rent. These beautiful properties are located on the cliffs overlooking the ocean, with first-class amenities like WiFi. satellite television, and spas. Uluwatu exotic location creates the perfect setting for a resort getaway.
5. Watch a Kecak dance
Bali is famous for its dances and one of these is the Kecak dance which was developed in the 1930s.
The dance takes its name from the 'cak' sound that is repeated throughout and is based on the story of the Hindu epic called the Ramayana.
You can watch performances of the dance all over the Bali island and many shows take place outside under the stars.
Traditional Balinese dances are an important part of Bali's culture and festival celebrations. Watching a Balinese dance is an interesting way to experience the Bali culture.
The most popular and visually exciting dance is the Kecak Dance, which is a feature of Balinese Hinduism. You can find it performed at Tanah Lot and Uluwatu temples.
Other popular traditional Balinese dances include the Legong dance and the Barong dance.
6. Tegenungan Waterfall
Situated in Tegenungan village, halfway between Ubud and Bali's capital Denpasar, Tegenungan Waterfall is one of the most popular picnic spots in the region. It is set amidst dense foliage in a shallow bathing area and lined with cafes and eateries. Present in an isolated location on the outskirts of beach in  Bali, the place is ideal for nature photographers.
Tegenungan Waterfall is divided into several levels which can  reach via a flight of stairs. One of the prime activities to do here is swimming in the shallow pool bed. This waterfall is throng with people due to the popularity and easy access, but makes for a good drive and short picnic from Bali.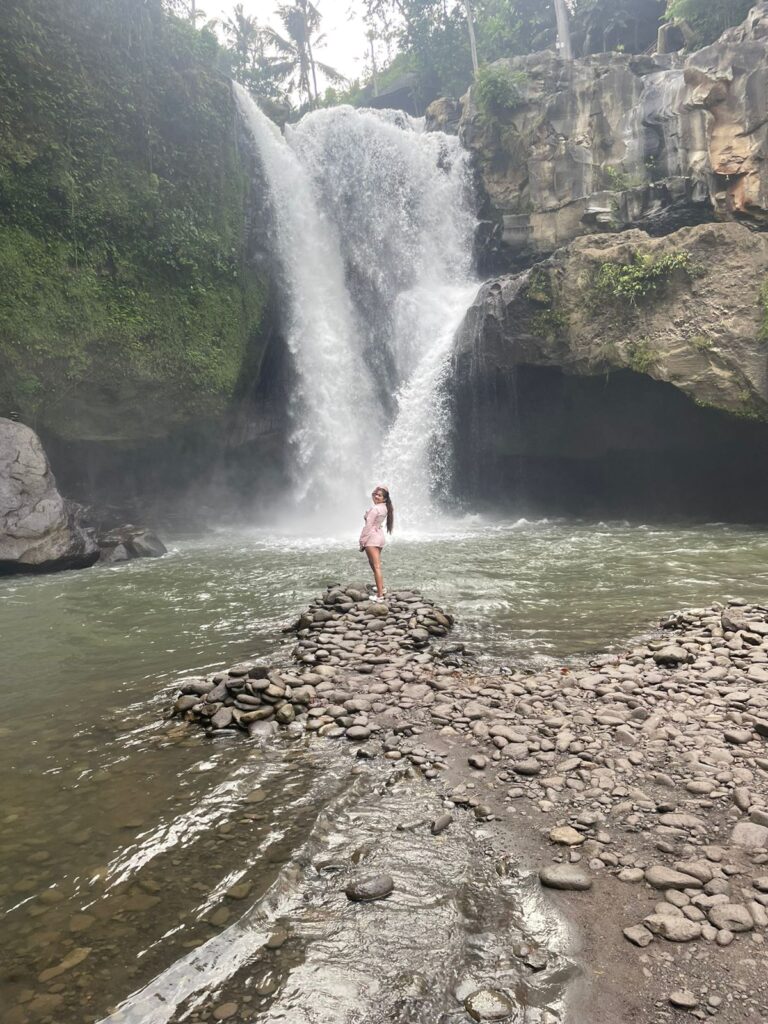 Things to Do at Tegenungan Waterfall
1. Swimming: During the trip to the Tegenungan Waterfall, swimming is the prime attractions.
2. Photography: The location and dense vegetation cover present at and near the Tegenungan Waterfall provides some good scenic views. T
3. Waterfall Swinging: If looking to add an element of thrill and adventure to your trip to Tegenungan Waterfall, try the waterfall swing present a little higher than the top of the falls on the cliffs.
Tips While Visiting Tegenungan Waterfall
Avoid entering the waters during and after rainfall as there is a risk of flash floods.
Wear rubber sole slippers or shoes while moving on the slippery rocks.
It is advise not to jump off the top of the cliff rocks to avoid injuries.
7. Trip to Nusa Penida
The hidden treasure of Indonesia, Nusa Penida is the most exotic of the three Nusa Islands and is relatively less travelled. Located in the Klungkung district, it is a little off the shores of Bali. During this season, the island is relatively dry and is fairly suited for activities like snorkelling, scuba diving and surfing. Despite these qualities, Nusa Penida is largely left unexplored and is awaiting tourists to explore this exotic destination. Pristine white sand beaches like Atuh and Nusa Penida beach draw tourists from around the world.
Nusa Penida is larger than its two sister islands, Nusa Lembongan and Nusa Ceningan, with improving tourist infrastructure. The nature of cliff formation as well as the number of Hindu temples on this island makes it more picturesque than its sisters. Known for preserving the endangered bird beach in Bali Starling, this island's famous attractions are the Crystal Bay sand beach and sunset panorama. Boats regularly move from mainland Bali to the three Nusa Islands, Nusa Penida being the last stop.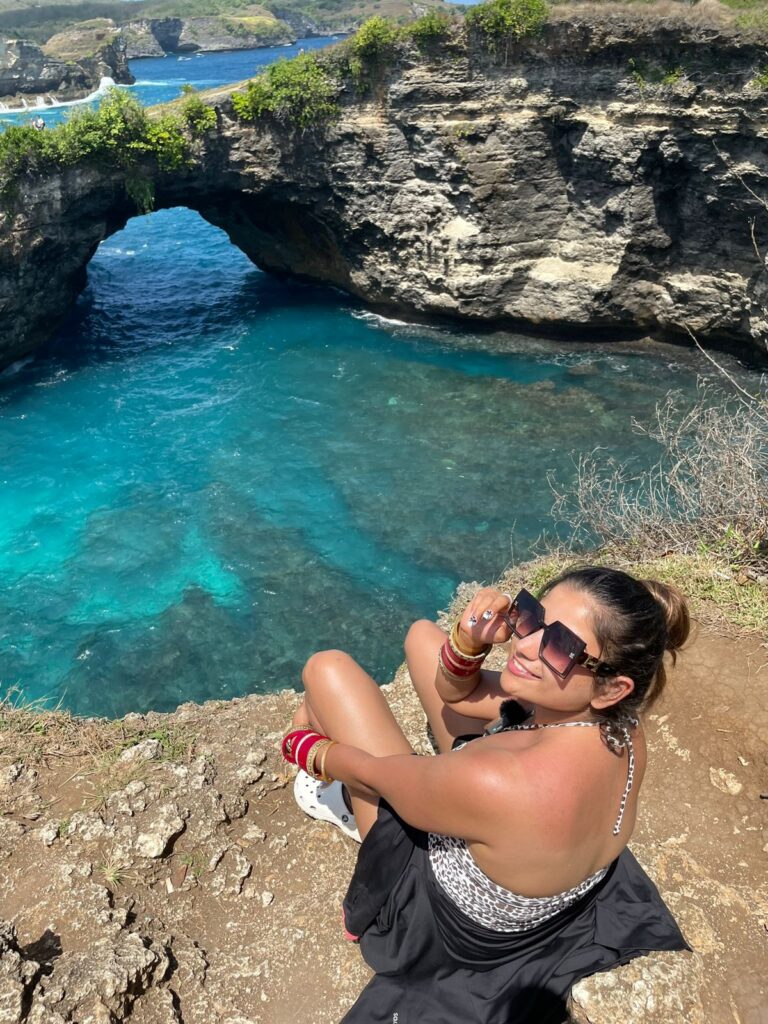 8. Mount Batur
visiting places in bali Called "Gunung Batur" in the local language, Mount Batur is an active volcano in Indonesia. At 1717 metres (around 5,600 feet) above sea level. Visiting places in bali it offers a spectacular view of its surroundings – the majestic Lake Batur, nestled amongst black lava from the last explosion in 2000, and adjacent to this all, beautiful mountains.
In 2012, UNESCO announced Mount Batur Caldera, the collapsed top at the top, as a part of the Global Geoparks Network, an effort to preserve the planet's geological heritage. The volcano is a popular trekking destination amongst tourists and locals alike. Because of its beautiful views and relative ease to climb, Mount Batur is considered a must-visit in Bali.
Anyone looking for some adventure in Bali needs to head to Mount Batur which stands at 1,700 meters above sea level.
This is one of the most famous volcanoes in Bali and you can take a tour to the top which usually starts out at around 4 am.
This gets you to the top in time to watch the spectacular sunrise over the crater and the mountain is encircled by a stunning lake.
This is also one of the easiest treks in Bali compared with larger mountains so if you want to say you trekked up a volcano then this is a good choice.
9. Spend time with the monkeys at Monkey Forest
Monkey Forest is a Hindu temple complex in Ubud and also one of its main attractions.
The complex is full of over 500 monkeys. The three temples that still stand here date from the 14th century. visiting places in bali The entire area is a nature reserve and you can walk around and take in the scenery as well as take photographs of the monkeys.
One can find more than 186 plant species. However,  a small herd of Timor Rusa Deer is kept in an enclosure for visitors to witness its beauty. Apart from the vibrant and high spirited monkeys. This place is made more special and sacre by the ancient temples that are situated in the forest. Dating back to the 14th century these temples are beautifully construct with fascinating carvings and intricate sculptures of monkeys and dragons. surrounded by lush green forests. It is a unique and perfect getaway to spend some time amidst nature and playful monkeys.
Things to do Monkey Forest
Sacred Monkey Forest Sanctuary comprises of great staff and local guides that are ready to provide assistance at any point during your visit.
The local guides are perfect to approach if you want a detailed and informative walk in the sanctuary.
The Wenara Wana staff is there to assist you to retrieve your personal belongings when snatched or stolen by monkeys.
10. Tour a Chocolate factory
You may not immediately think of chocolate when you think of Bali island but actually Indonesia is one of the top producers of cocoa in the world.
As a result, you can visit Pod Chocolate Factory which makes. Some of the most delicious bites in Bali and find out how cocoa is grown and harvest and how the chocolate is made.
The factory offers a range of tours and of course you can buy some of the delicious treats on offer here as a sweet souvenir of your trip
11. Enjoy the Nightlife in Kuta
Anyone looking for a party needs to head to Jalan Legian in Kuta.
This area is know as the main nightlife hub of Bali island  and you will find a huge range of different night clubs, visiting places in bali live music events, and relaxed cafes.
The party scene keeps going into the early morning and you will also find a vast number of eateries here if you get hungry.
12. Spend the Day on Menjangan Island
You will find Menjangan Island in the north west of Bali and although it can take some time to get here, it is more than worth it is you want to visit the Menjangan National Marine Park.
As well as trekking on the island the main reason to come here is for the diving and you will find a plethora of underwater delights such as coral reefs and colorful fish.
There is also a good chance of seeing other sea creatures such as turtles, octopus, crabs, and rays.
13. Go on Safari at Bali Marine and Safari Park
Bali Marine and Safari Park is made up of a collection of the best flora and fauna in Indonesia. And you will greet with over 60 different species of animals here.
There are also dance and musical shows held here throughout the day. And you can go on a safari tour to see the animals as they roam all over the park.
There is even the option to stay here overnight and watch graceful giraffes and elephants amble past your hotel room.
14. Check out the stone carvings in Batubulan
The village of Batubulan has made a name for itself over the years as the place to come if you want to find some of the prettiest stone carvings in Bali.
visiting places in bali The village is around two kilometers outside Denpasar and you will find traditional carvings in the image of famous Balinese gods and goddesses as well as scenes from famous epics like the Mahabharata and the Ramayana.
The stones blue and black as they are made of volcanic minerals. And if you are looking for a souvenir of a trip to Bali then this is the perfect place.
15. Visit a Spa
Bali island is know for its spa experiences which blend traditional local ingredients. And centuries old techniques that will leave you relaxed and rejuvenated.
One of the most amazing of all Bali's spas is The Spa. And The Edge Hotel which is located in Pectau and sits on the side of a cliff.
This means that you get views over the water. And can look over a sheer drop down the cliff side . And the packages here mix flowers, rice, and holy water for one of the best spa experiences on the island.
16.Visit Bali Provincial State Museum
The Bali indonesia Provincial State Museum has the claim to fame of being. visiting places in bali indonesia The oldest museum in Bali and has over 10,000 items on display.
Secondly The museum is built in traditional style and royal pavilions and beautiful Balinese architecture aplenty.
After that Here you will find an amazing array of prehistoric artifacts as well as works of art and weaponry.
Other galleries are full of ceramics such as statues and stones with ancient inscriptions. As well as tools and bronze pieces.
The northern royal pavilion is model on a Tabanan palace and you can see traditional textiles and masks used in Balinese ceremonies and dances.
17. Spot the Dolphins in Lovina
Bali indonesia is cover in beaches but one that stands out the most is Lovina as the sand is black thanks to its high mineral content and volcanic ash.
The main reason why many people visit Lovina is to see some of its resident dolphins. For instance, That swim in the waters here and you can take a boat trip out in the early morning. When you will have the best chance of spotting them.
For many visitors this is a highlight of a trip. Here and it is well worth getting up early in the morning to get a chance to spot. These graceful creatures in their natural environment.
18. Iconic Bali Handara Gate
Bali indonesia Handara Gate is one of the most Instagrammed spot on the island. For instance, must-visit place among tourists and photography lover.
Handara Gate is actually the entrance to a golf resort. The traditional Hindu gate symbolises the entrance from the outer world to the temple, or in this case, golf course, and plays an important role in Indonesian culture.
Bali Handara Gate is surround by lush green mountains. visiting places in bali  Crater lakes and an equatorial rain forest that create dramatic backdrops into the well-maintained creeping bentgrass greens.
There are many iconic places such as the Bali Gates, all over the region. That have recently become very popular locations for tourists and locals to visit. Because of their massive exposure on the social media platform Instagram.
How to Get to Bali Handara Gate
The Bali Handara Gate is easily accessible from any areas of Bali indonesia. Therefore, Which lies on the main road passing through Bedugul highland within 10 minutes or 2.6 mi (4.2 km) from Ulun Danu Temple
Bali Handara Gate Entrance Fee
Visit to the Bali Handara Gate are subject to an entrance fee of IDR 30,000 per person. After that Both for domestic tourists and foreigners.
The ticket can buy at the ticket counter which locate just in front of Handara Gate. When you pay you will receive a 'Selfie Ticket' as a receipt!
19. Buy some wood carvings in Mas
Mas is a village that is around six kilometers outside of Ubud. And is know all over the island for its intricate wood carvings.
If you want some of the pretty souvenirs in beach in Bali. Then make sure to come here and check out the carvings. Which come in a range of designs such as traditional masks and tableaus of famous Balinese stories.
Some of the most famous spots in Mas include the Nyana & Tilem Gallery as well . Similarly as the I.B Sutarja Mask Carver Gallery.
20. Relax at Bali indonesia Best Beaches
With white beaches and silky blue water, chilling at the beach is consider by most . visiting places in bali The best thing to do in Bali (and it's free). Just bring a towel and smother yourself in sunblock for sun-soaked rest and relaxation.
Here are some popular beaches in Bali indonesia
Firstly Seminyak Beach is a good place for Bali island best dining venues and world-renowned nightlife spots.
Nusa Dua Beach is a great place for families, with friendly restaurants and a good shopping area, as well as a range of water sports.
Jimbaran Bay Beach is best for seafood and sunsets; daytime is quiet there.
Thomas Beach has the quietest beaches and is best for beach walks and sunbathing.
Padang Padang Beach found fame in the film "Eat, pray, love" — this beach is best for sunbathers and surfers.
21. Jimbaran
A beautiful seaside village/fishing town of beach in Bali indonesia, Jimbaran offers tranquil beaches which are perfect for sunbathing. There aren't any waves here (at least when I visited) so it was perfect for swimming too.
Jimbaran was once an unattractive little fishing town in southern beach in Bali indonesia region. However, plenty has changed since beach in Bali picked up its popularity in the 1980s. The grimy region transforms into a rich district loaded up with various five-star shoreline resorts and restaurants with global standard and upscale estates to delight all the voyagers.
For those searching a more carefree alternative then head to the stretch of Jimbaran.
Top Things To Do In Jimbaran
Sunbathe on the beach in bali. Jimbaran has 4 km of beautiful golden sands and lots of cute little warungs to grab lunch, so it's the perfect place to spend a day.
Go on a fishing trip! Try and be like the locals and catch your own lunch.
Discover hidden Pandawa Beach in bali with it's blue waters and snorkelling opportunities.