Here Located around 60 kilometres away from Goa, on the Goa and Karnataka border, Dudhsagar waterfall is amongst the five highest waterfalls in India. With a height of around 310m (1017ft) and about 100ft in width, Dudhsagar Waterfalls displays a tremendous power of nature, creating a sight worth capturing. This glorious waterfall is one Dudhsagar falls timings of the best places to visit near Goa, owing to its charismatic natural beauty and striking environment. This gorgeous four-tier waterfall became more popular after its presence in the blockbuster movie- Chennai Express in 2013. However, it is now one of the most popular spots for tourists visiting Goa and nearby places. The Dudhsagar waterfalls in Goa initially look like a pour out of milk, coming down from the mountain, later transforming into gushing cascades. Here's everything you should know about Dudhsagar Waterfalls.
The Dudhsagar falls
The Dudhsagar falls in Goa is one of the tallest waterfalls in India. Situated on the Mandovi river in India's goa state, this magnificent waterfall depicts a cascading effect. This effect creates an illusion that the milky white sea is falling from a great height of 310 metres. This is how the waterfall acquired its name, the Dudhsagar falls.
The overall landmark in the landscape of the waterfall is enclosed with a vastly stretched forest cover. Due to this, the Dudhsagar falls form a part of the Bhagwan Mahavir Wildlife Sanctuary. This sanctuary shelters a plethora of wildlife flora and fauna. You can embark on wildlife research or photography skills here to explore your hidden talents.
In recent years, the popularity of Dudhsagar falls has increased ten-fold. It has also emerged as one of the most preferred weekend getaways from Mumbai, Bengaluru, and Pune. You must check out this place once, either with your family or a group of friends, for a memorable trip. For accommodation and stays, you can check out hotels in Goa, ranging from budget-friendly to expensive ones, depending upon your budget.
Dudhsagar Waterfalls – History
The most famous waterfall in Goa, Dudhsagar means the Sea of Milk owes its name to a myth. This was the favorite place of a beautiful princess who used to have a bath in a lake near the Mandovi River every day. After the bath, she would often drink sweetened milk from a golden jug. Once, while having a bath in the lake, she noticed a handsome prince gazing at her. At that moment, she poured the milk from the Golden jug to create a white virtual curtain in front of her, obstructing the view through crystal clear water of the lake. According to the myth, the milk still cascades down the mountain slope in the honor of princess's virtues. 
Myths & Legend
There is a popular legend about this waterfall. Here's how this legend goes:
There was once a princess who was the daughter of the King of the Ghats. The princess was extremely charming and beautiful, and at the same time, she was also modest. She believed in the purity of the heart, mind, and body. According to the legend, she bathed in the lake near her father's castle daily. After she bathed, she, along with her handmaidens, would gather on the shores of the lake. Then, the princess would consume milk in a jug made of wrought of pure gold and enamelled with sparkling diamonds.
One fine day, while the princess was consuming milk, a handsome young prince crossed through the nearby woods. On hearing the chatter and laughter of the ladies, he stopped for a moment to look. The princess was embarrassed by her meagre bathing attire. Her handmaidens then poured the milk in front of her in a cascading effect to create a curtain-like form behind which she would change her clothes. This cascade of milk, which safeguarded the modesty of the princess, is named the Dudhsagar falls.
How to Reach Dudhsagar Waterfall in Goa
The Dudhsagar waterfall is situated in the Western Ghats close to Bhagwan Mahavir Wildlife Sanctuary in Goa. A trek to Dudhsagar will allow you to witness the natural wonder of the Sanctuary jungle. Most Importantly This sanctuary is home to many animals and birds, including wild dogs, Dudhsagar falls timings Bengal tiger, grey-headed myna, spotted deer, bear, leopards, bison, and different varieties of butterflies – lime butterfly, Mormon, tailed jay, to name a few.  There are different ways to reach this waterfall that include:
By Train
There are two trains available on daily basis, but they are not directly connected to the fall. Kulem and Castle Rock are the nearest railway stations from where travellers can trek to waterfalls. This mode of reaching the waterfall is strongly recommended for adventure and trek lovers. However, those who are travelling with aged people and children should avoid using this option.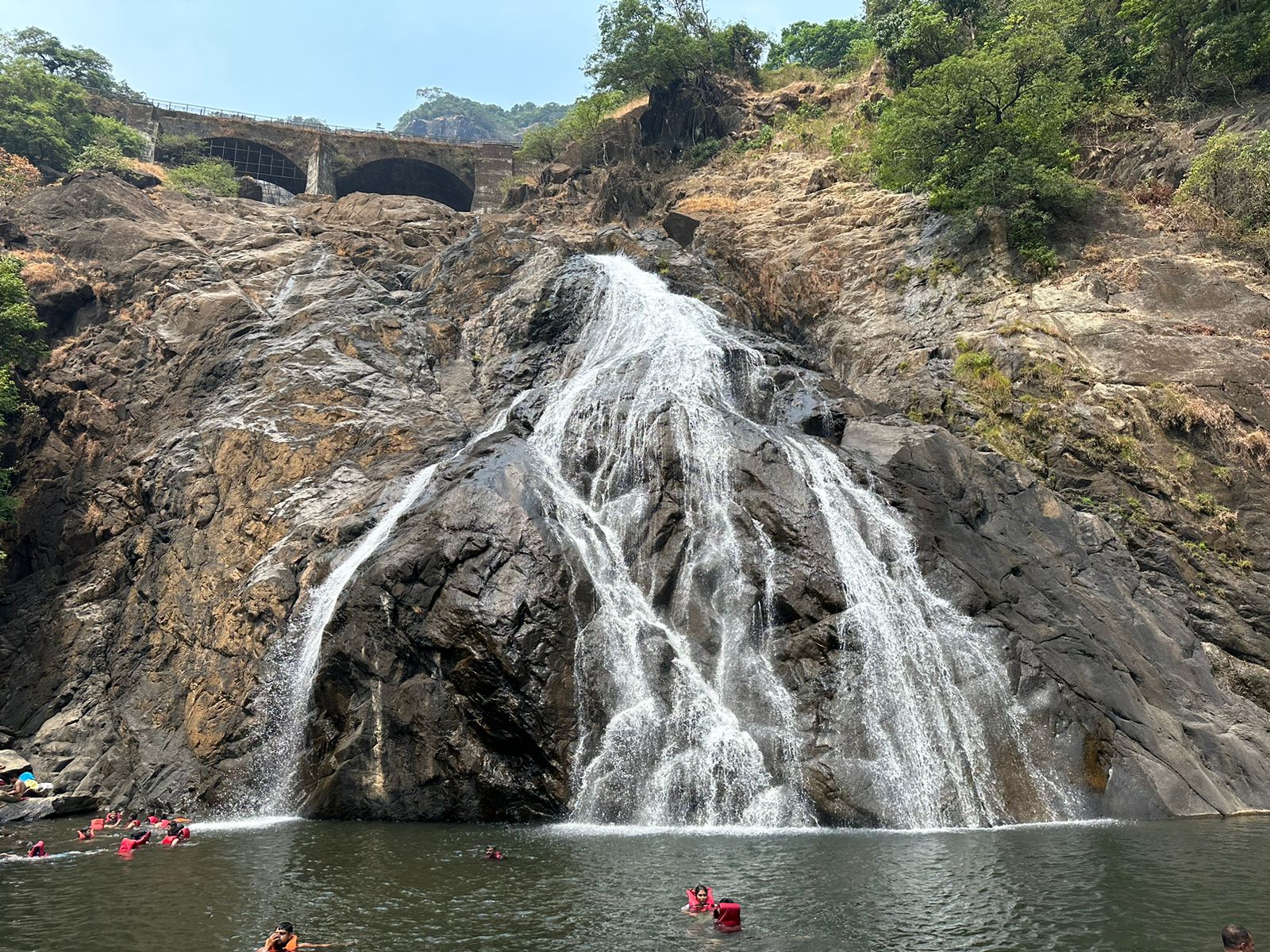 By Road
Situated on the coast of Goa and Karnataka, Dudhsagar waterfall can be reached by road too. In case you are travelling to this place from Panjim – the capital of Goa or any other location in North Goa, then you would be Dudhsagar falls timings required to go by road. You can hire private taxis that will take you to the entry of Bhagwan Mahaveer Sanctuary near the village – Mollem on Goa- Karnataka Border. From this spot, you can take the official management's Jeeps to reach the waterfalls.
Note: Visitors are allowed to spend a total of 1 hour 30 minutes after reaching this famous waterfall in Goa. This time is applied from the time you are dropped at the parking spot, till the time the allocated jeep returns. 
Dudhsagar Waterfalls – Things to Do
Dudhsagar waterfall in Goa is the top attraction for tourists, keeping them entertained with a plethora of exciting activities:-
Waterfall trek
Known as one of the best trekking destinations, Dudhsagar waterfall provides adventure lovers with an opportunity to closely experience the wilderness and natural beauty. The Dudhsagar waterfall trek passes through the green lush forests, allowing you to capture the striking scenes of the environment in your camera. Trekking to this waterfall would be a fun experience but you have to be careful of the poisonous snakes on the treks.
Camping
Situated amid the natural wilderness, this famous waterfall in Goa is an ideal destination to enjoy camping. You can choose the Castle Rock adventure camp, available with a range of facilities, including Dudhsagar falls timings plenty of trekking expeditions, bunker beds, serene playgrounds, and calm surroundings. The adventure camp can fulfil your wish to enjoy a trip with extra thrill and adrenalin rush in an affordable and offbeat destination.
Swimming at Dudhsagar Waterfalls
You can also enjoy swimming in the natural pools formed by the waterfall. Swimming in these naturally created pools would be a fun and delightful experience. The natural attractiveness around the fall makes it a perfect picnic spot among tourists.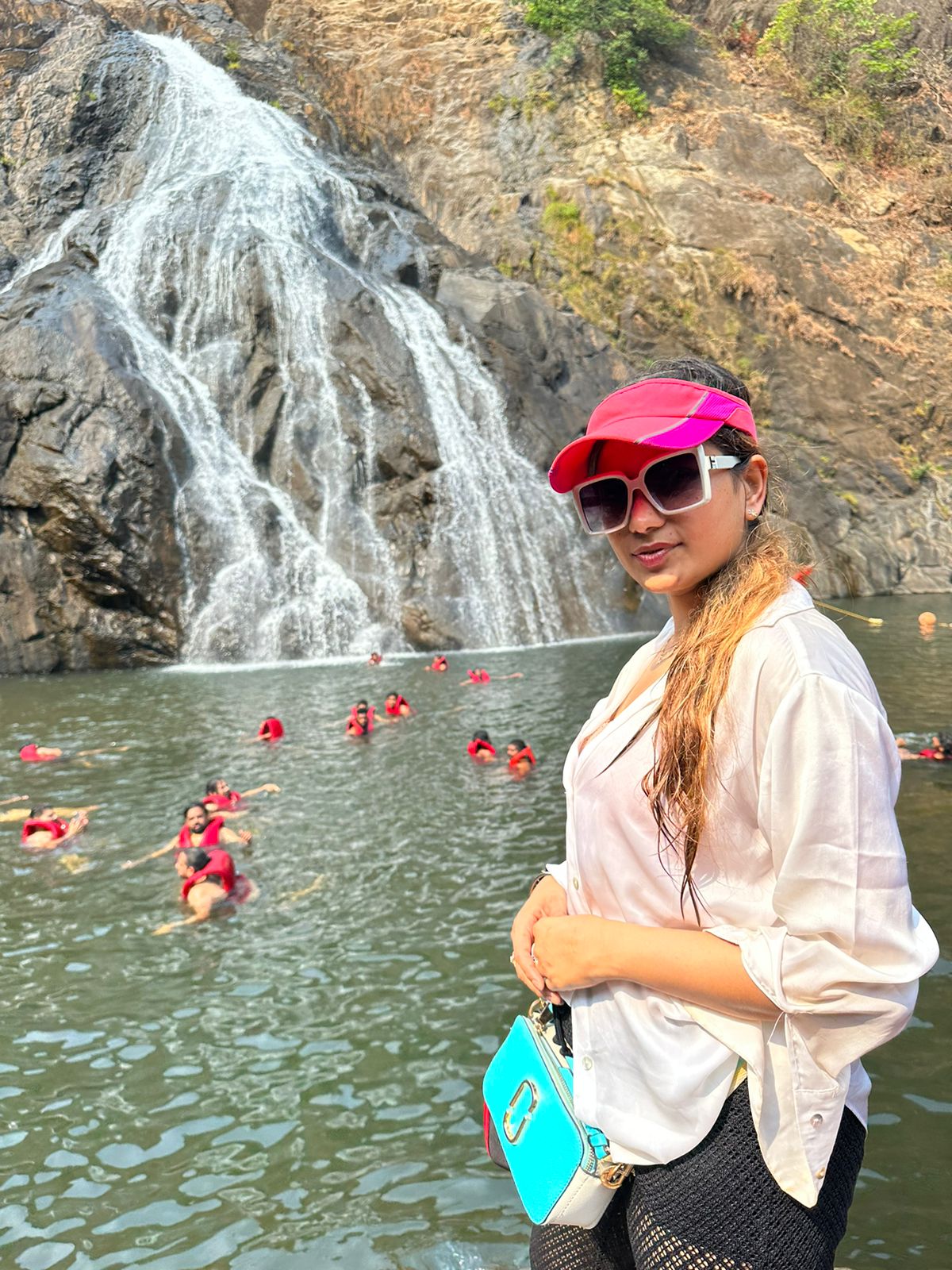 Castle Rock Trek
Those who are interested in praising the natural beauty from too close can enjoy this trek. This 14 km long trek takes around 4-5 hours to complete, allowing you to enjoy something thrilling on your way Dudhsagar falls timings at the same time. The picturesque beauty is the key attraction as the trek will lead you to many natural masterpieces. Apart from that, you will need to pass through different tunnels and railway crossings on this trek.
There are many hotels near Goa that provide comfortable accommodation options as per your need and budget. You can plan a one-day trip to the waterfall. 
Best Time to Visit Dudhsagar Falls
You will witness the true magnificence of nature during the monsoon. So, July to October or during monsoon and after monsoon is an ideal time to visit this waterfall. However, the water level is high during monsoon, thus you need to be very careful and take extra precautions while visiting this place. If you wish to make the most of your visit, it is wise to visit this waterfall in Goa, after the monsoon, between October to February. This is the time Dudhsagar falls timings when trekking to a waterfall is not risky. Also, the water level is moderate, and the trail is easier and more accessible in this season.
The perfect time to visit the Dudhsagar falls is during the monsoon period. After that the climate is pleasant during this period. The water levels are also above normal, creating a trickling effect as the water flows through the lush green hills. You can plan your trip this time to enjoy a quality family outing at this splendid waterfall.
The monsoon period is by far the best season to plan your visit to the Dudhsagar Falls. The water levels will be above normal, thus giving rise to a splendid cascading effect as the water flows down through the verdant hills. Dudhsagar falls timings The climate will also be pleasant and joyous to plan on a family outing at the base of the magnificent waterfalls.
Dudhsagar Falls – Timings
The gate to the Bhagwan Mahavir Wildlife Sanctuary opens Dudhsagar falls timings and 7 AM in the morning and remains open till 5 PM. It is wise to reach there on time to get the whole day to enjoy the striking sights of Dudhsagar waterfall. 
Dudhsagar Waterfall – Ticket Price
Entry Fee – 20 INR per person
Jeep drive from Castle Rock to Dudhsagar Falls – 400 INR per person. 
Places to Visit Near Dudhsagar Waterfall
Tambadi Surla Temple
One of the oldest historical places in Goa, So the Tambadi Surla temple attracts tourists with its old-fashioned and intricate design. Dedicated to Lord Shiva, this temple was structured using materials like grey-black talc chlorite soapstone, giving it a fascinating shine. But The Tambadi Surla Temple is the only existing construction of the Kadamba Yadava dynasty. When you visit Dudhsagar Waterfall, do not forget to explore the historical legacy of Goa.
Devil's Canyon
Also known as Devcharacho Kond, Devil's Canyon is a river gorge, situated around 1 km from the fall. With the powerful hitting undercurrents and slippery Mould-covered rocks all around, the canyon actually gives the feel of a Devil's canyon. Flowing right between gorgeous patches of forests, But the Devil's Canyon is a perfect hiking spot for adventure lovers.
Mollem National Park
One more attraction near Dudhsagar waterfall is Mollem National Park. Earlier a game sanctuary, the Mollem National Park was declare a sanctuary in 1969. Similarly It is a great place to make your trip to Dudhsagar fall, more interesting and memorable. This park is home to a range of snake species, including King cobra. Malabar Pit viper, Hump-nosed pit viper, and Indian Rock Python. Here, you can also get to see a variety of birds such as golden oriole, Fairy bluebird, three-toed Kingfisher, wagtails, and great Indian hornbill.
A walk to Spice Plantation
The Spice Plantation near the fall will help you to make your trip more memorable. Here, you can spend the whole day walking around and trying to understand the variety of spices. Apart from this, So you can please your taste buds with a Goan-style buffet lunch provided at the spot. The authentic cuisine prepared with some freshly crushed spices will certainly give you an unforgettable experience. You can also get to enjoy an elephant ride here.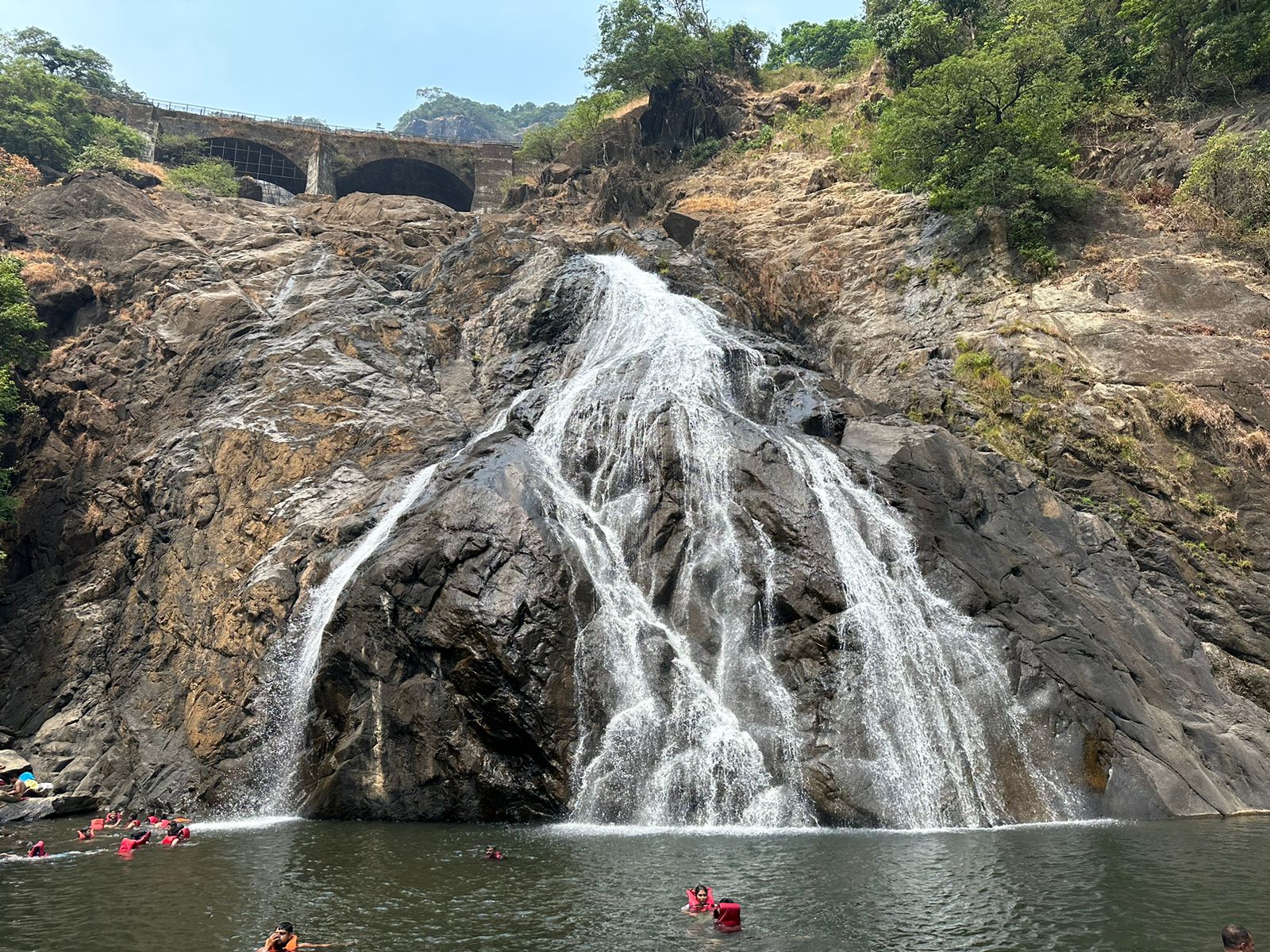 Essential Information About Dudhsagar Falls
Location –  Madgaon-Belgaum railway route , Sonaulim, Goa (403410).
Price – There are no entry charges to visit the Dudhsagar Falls of Goa.
Timing –  Dudhsagar Falls are accessible between 09:00 am to 06:00 pm. However, if you are travelling via train along the Madgaon-Belgaum railway route, you can have glimpses of the waterfalls as and when your train trespasses the region.
Dudhsagar Falls Trek from Castle Rock –
A perfect adventurous activity to enjoy on your trip to Goa is the adventurous trek to Dudhsagar Falls from the Castle Rock. For all the tourists and travelers coming right from the city of Bangalore, Castle Rock to Dudhsagar Falls trek is an unparalleled experience.
People visiting from Dharwad, Hubli, Dandeli, Londa should alight at the Castle Rock Railway Station to begin their trekking adventure. Your trekking route from Castle Rock to Dudhsagar Falls is a 14 km long and will consume 5 to 6 hours.
But the serenity of the surroundings is worth all the efforts that you are going to invest in here.
Things to carry for your Castle Rock to Dudhsagar Trek –
1. Haversack
2. Sufficient water reserves
3. Extra clothing
4. Trekking shoes
5. Plate, spoon, mug
6. Personal medical kit
Advisory –
1. Firstly Never encourage littering here and there while you trek to the Dudhsagar Falls.
2. Secondly Alcohol or intoxicant consumption is strictly prohibited on account of personal and group safety.
3. It is always advisable to opt for a guided trek and follow the instructions briefed by your guide at the start of your adventure.
Dudhsagar Waterfalls Mollem National Park Safari Experience –
A journey to the Dudhsagar Waterfalls is incomplete without a Mollem National Park jeep safari experience. A jeep safari is the most convenient way to trespass the jungles that stand in your way and obstruct your free visit to the falls.
This ride is a 30 to 40 minutes ride where you will be crossing the jungles and small rivulets. To make this journey an exhilarating one for you and your companions, it starts from the Mollem National Park. It passes through the Bhagwan Mahavir Wildlife Sanctuary.
Because if you are keen enough on spotting the local wildlife of goa, Bhagwan Mahavir Wildlife Sanctuary will prove to be a real delight for you. If luck favors, you can spot the rare species of Drongo, barking deer, bonnet macaque, and other animals and birds as well.
There are some general rules and regulations which you need to observe while enjoying your Mollem National Park jeep safari.
Many jeep safari service providers offer online booking at the convenience of their travelers. Moreover, it is therefore advisable to pre-book your jeep safari ride so that you do not need to rush at the last moment.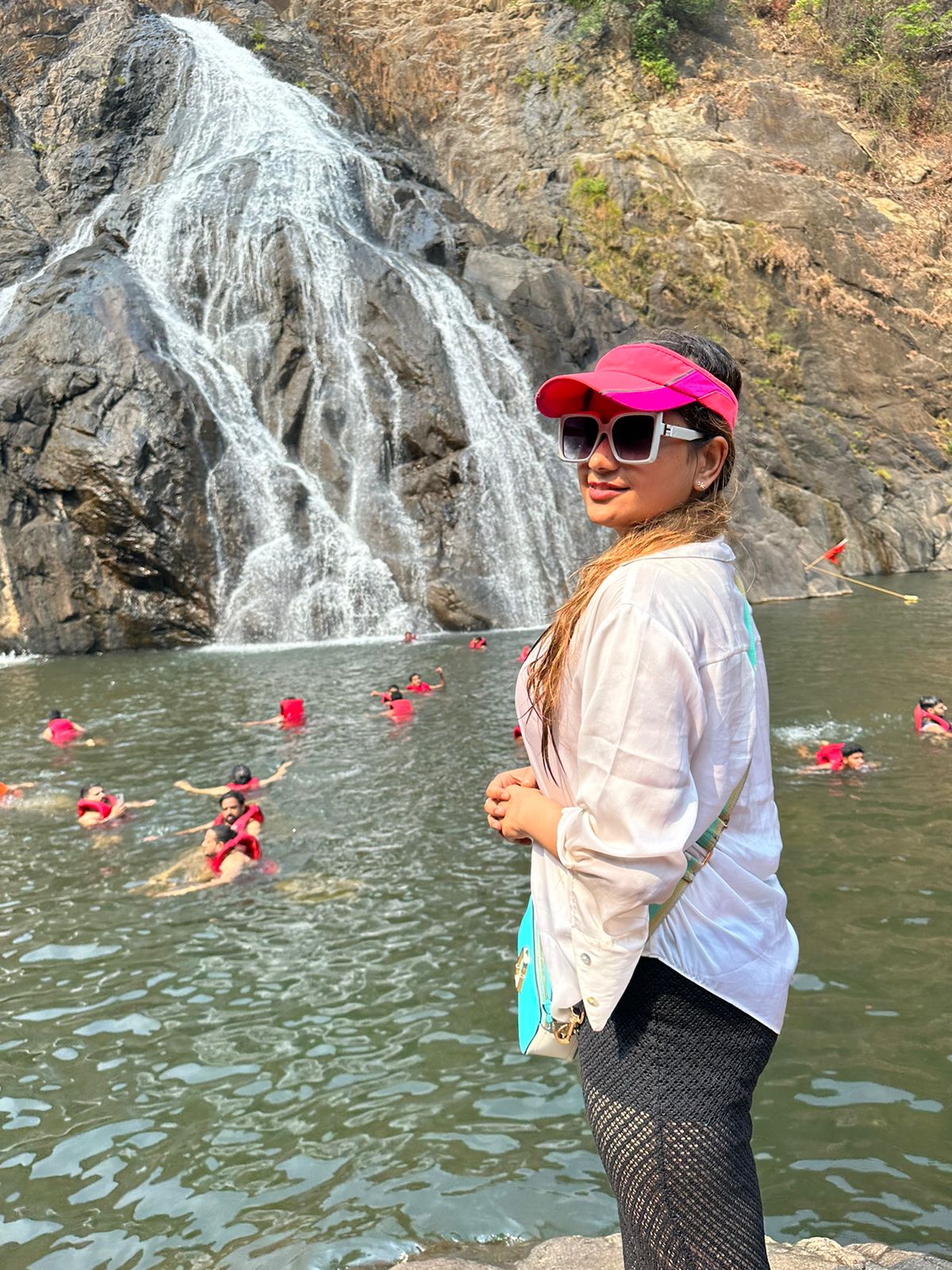 Tips for visiting Dudhsagar Falls –
1. If you are travelling to the Dudhsagar Falls for the very first time, But here's a list of some handy tips for you –
2. You can get down at the Dudhsagar Railway Station, which is the nearest railway head to the falls. However, not all the trains halt at this station. Make sure that you check with the railway timetable to hunt for a train suitable to drop you at this railway station.
3. You are not allowed to walk on the railway tracks. Meanwhile There's a proper route to get close to the Dudhsagar Falls, which is secured for one and all.
4. If you are planning for a jeep safari to reach the Dudhsagar Falls, so you need to head towards Kulem early in the morning.
5. The visit to the Dudhsagar waterfall goa Waterfalls are closed as soon as the clock strikes 06:00 pm. So, it will be tough for you to get a ticket after 02:00 pm.
6. Most Importantly It is better to travel to the Dudhsagar Falls in a group of 7 if you are planning on a jeep safari. If that is not the case, you will have to wait unnecessarily until your jeep fills into its totality.
7. You can opt for a pre-booking facility for your Jeep safari. It is the most convenient way to avoid last-minute hustling.
8. We recommend you put on comfortable clothing and shoes while visiting the falls as you will be walking through the rocky path for around 15 to 20 minutes.
9. So You are required to put on life-saving jackets before heading towards in the direction of the Dudhsagar Waterfalls. This is a strict safety measure to be observed by each and every tourist who plans to explore this gigantic waterfall.
10. Bhagwan Mahavir Wildlife Sanctuary has washroom facilities.
11. There are no locker facilities in and around the waterfalls. So, if you are taking any valuable items such as cameras or gold ornaments, it is entirely your responsibility to look after its safety and security.