Kosi river map traverses the eastern periphery of the Jim Corbett National Park. kosi river in india After commencing from Mohan, the river goes through Dhikuli and finally culminates into Ramnagar, which is a small town in Nainital. This is a brilliant tourist destination with thick green forests surrounding the river, presence of wild animals that come to the riverside to drink water and a great adventures ambience. The Kosi is actually a tributary of Ramganga, the major source of drinking water in the area.
It originates from Dharapani Dhar, located at a height of 2500 metres in Baramandal region of Almora district of Uttarakhand. The river flows graciously along the verdant valleys of the hill district before culminating into the Terai region of Uttar Pradesh.Locally known as the Kosila, the water resources of Kosi river forms the rich vegetation and farmland of the Kumaun region. This is the source of life for the growing wildlife and forests of the entire Jim Corbett National Park.
The riverbed of Kosi is filled with boulders and its flow is often erratic. Water flows in torrents during monsoon in this river, making it a marvellous tourist destination. The water of the river is very pristine and calm once the monsoon ends. You can bask in the sun by the riverside, take a stroll in the adjacent areas, catch a glimpse of various migratory birds that come to the valley round the year. Overall, this is a perfect place for a vacation in the lap of nature.
What Not To Miss
Kosi River is a famous spot for fishing and angling activities. During the fishing season that ranges from October till mid-December, and from mid-February to June end, enthusiasts can catch mahseer at the river. Permits for fishing can be arranged via resorts and jungle lodges located around Kosi River.A perennial river, its catchment lies partially in Corbett National Park.
The river forms the eastern boundary of Corbett National Park, from Mohan through Dhikuli till Ramnagar. Wild animals from Corbett use it for drinking, especially during pinch periods, although the river does not enter the park.Bed of the river is strewn with boulders, due to which its flow is erratic and often changes course. Damaging torrents during monsoon have given the river the status of being notorious. Due to its inhibition by mahseer, the river allures migratory birds.
Attractions near Kosi River
1. Dhikala:
Dhikala is one of the significant safari locations of Jim Corbett National Park. This around 850km from Kosi river and can be reached through cars in 7 hours. The Dhikala range is situated 50km dense inside the Corbett park that offers panoramic view of the green valley and the brilliant wildlife sightings. The entry zone of Dhikala is Dhangadi gate. Visitors can catch glimpses of wild elephants, hog deer, chital and various types of migratory birds.
In the wetlands, you can find crocodiles, garial among other reptiles. Various types of jeep and bus safaris are available at Dhikala. A tour to the Kosi river areas will be incomplete without a visit to Dhikala.  Entry to Dhikala on jeep will cost around Rs 5000 for 6 native tourists.

2. Jhirna:
Located around 1110km from Kosi river area, Jhirna is the southern corner of Jim Corbett National Park. One of the best sightings of wild animals in the forest can be witnessed here. Jhirna was once a village that has turned into a dense forest and a natural habitat for hundreds of wildlife over the years. Entry to Jhirna will cost around Rs 4500 on a safari jeep for a batch of six native tourists.
3. Corbett Museum:
Corbett Museum is more than just a museum near Kaladhungi. This is a place for knowledge for history and wildlife enthusiasts. The amazing collections of adventurer Jim Corbett have been preserved here. You can spend at least 2 hours at the museum. The entry is priced at Rs 10 for Indians and Rs 50 for international tourists. From Kosi river, it will take around 20 hours to reach this museum located in Choti Haldwani.
4. Garjiya Temple: 
This famous Shakti shrine in Uttarakhand is located around 1100km from the Kosi river. The holy temple worships the Girjiya Devi at the shrine. Goddess Girjiya is another avatar of Parwati, the daughter of the king of the Himalayan Mountains, known as Giriraj. You can spend at least an hour at the temple which is located right in the heart of Ramnagar. From Kosi river it will take around 21 hours to reach the temple.
5. Corbett Falls: The Corbett Falls is located around 25km from Ramnagar. This is a famous picnic spot for tourists which are surrounded by dense forests. The sweet sound of the waterfall, chirping of birds and the natural set up make it an ideal place for rejuvenation. From Kosi riverside, it will take at least a day via car to get to the Corbett Falls. The falls becomes splendid with its clean stream of water during monsoon. You can take a fun bath at the Corbett falls.
How To Reach
-Via bus: Dehradun airport or the Jolly Grant airport is the nearest airport to Kosi river which is located at around 1440km from here. If you avail of the Uttarakhand state transport bus facilities, it will take around a day to reach the riverine area of Kosi. You can also reach the Kosi river site from Delhi airport where the number of state transport buses is higher compared to the Dehradun facility.
-Via car/taxi: Multiple private vehicle agencies offer long permit tourist cars to Kosi river. It is best to book the car from the airport in advance. The journey time will be around 20 hours from Dehradun airport to the Kosi. Many inter-state cab agencies offer transportation to Kosi from Delhi airport.
Best Time To Visit
-Winter: Anytime from November to February is the best time to visit the Kosi river valley, Jim Corbett National Park and its adjacent areas. This time the weather witnesses a deep nip in the air yet remains very pleasant. You can reach the river quite close and roam around the riverbed on foot on several locations as the amount of water dry up during this time. A lot of tourist footfall is witnessed during this time of the year.

-Monsoon: From June onwards, monsoon arrives here giving the kosi river in india one of its dangerous yet gorgeous avatars. The river in full thunder gushes through the rocky terrain. Sometimes, the fierce stream causes a little destruction on its path. It is a beautiful sight to witness for tourists from a distance. Once you visit the riverside, you shall hear the noisy gurgling of the water crossing the valley with immense pace. Undoubtedly, this is a major attraction for many adventure tourists.

-Summer: In summer, Kosi river map valley can be really pleasant. The temperature here doesn't kosi river map uttarakhand give you pain during travelling. The river carries a steady flow of water. You can deepen your feet in the shallow water areas and enjoy some angling activities.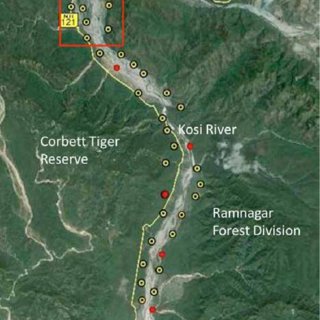 Places to Eat near Kosi River Jim Corbett
There are multiple places to eat around the kosi river uttarakhand and Jim Corbett National Park areas. kosi river uttarakhand Some of them are:

1. Barbecue Cafe: One of the finest places of grilled items, Barbecue Cafe is located in Dhikuli village at Ramnagar. Grilled fish, paneer, chicken and various authentic Indian dishes and comfort food are available here at a reasonable rate. A meal for two would cost around Rs 1200. The restaurant remains open from noon to 10pm.

2. The Grill Kebab Treat Restaurant: This restaurant is located in Garjia, Jim Corbett National Park. The place serves Indian and Asian cuisines. Also available are an array of vegetarian dishes. A meal for two would cost around Rs 1000 at this restaurant that specialises in mouth-watering kebab dishes. The place remains open from 11am to 10pm.

3. Village Vatika Restaurant: This place is known as "snacks after safari" to a lot of tourists visiting the Kosi river valley or Jim Corbett National Park areas. Various appetizers, finger foods, and grilled items are available here. Vegan friendly options are galore too. The place remains open from 8am to 10.30pm for all breakfast, lunch and dinner options. A meal for two at Village Vatika Restaurant will cost you around Rs 800 to Rs 1000.

4. Panorama Restaurant: Panorama Restaurant, located in Dhikuli, Ramnagar, is famous among international tourists for its lip-smacking Italian, Chinese and contemporary Indian dishes. Various steak items are also available here. A meal for two is price at Rs 1300 at this restaurant that remains open from noon to 9.30pm.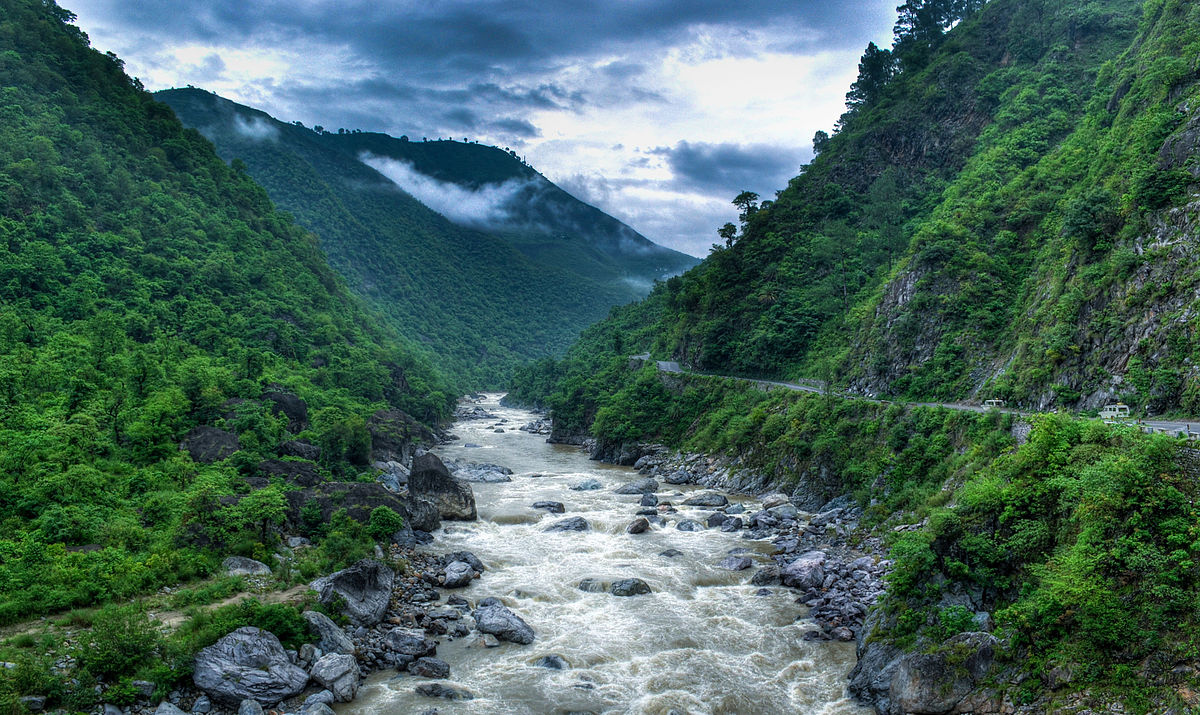 White water Rafting in Kosi River
Kosi river offers ample opportunities for tourists who are passionate about various adventure sports like river rafting among others. The white water river rafting in the Kosi can only be possible during the rainy season when the river gushes in its full force with a huge amount of water on its riverbed.
The geographical location of the river and its surroundings make it an ideal natural river rafting spot. The kosi river uttarakhand white water river rafting is considered one of the best rafting places across the country. The rafting sessions here are usually of 30 minutes. Rafting sessions of rapid II and III take place between July to September every year.
The rafting sport here can be pursue by both beginners and professionals. However, the river is close during bad weather conditions when the region witnesses huge showers on certain days during monsoon.
Angling in Kosi River
Kosi river is home to hundreds of fish species found in Ramganga river. Owing to the presence of huge number of fishes in the river, kosi river map in india a lot of migratory birds come here for prey. You can bask in the sunlight here along the riverside once the prime rainy season is gone and river flows in a steady pace.
U will not feel bored while pursuing your fishing skills kosi river map uttarakhand in india here as the breathtaking surroundings will keep you captivated. Kosi river in india You can also pen some poetic lines as you wait for your day's catch kosi river map in india sitting on the riverside boulders.