Zipline Neemrana Fort | Flying Fox Neemrana Fort Palace
About Neemrana Zipline
Flying Fox Neemrana is the first zipline tour in India. This is a great tour of and around Neemrana Fort-Palace using 5 ziplines. Coaches from the UK and India will guide you through your journey through the air, giving you good advice and protecting you. Flying Fox setup is Swiss-build, UK managed and all our safety equipment is imported.
Located at a distance of 100 km from Delhi, Neemrana is an ancient historical city in the Alwar district of Rajasthan. Fort Palace is said to India's first historic hotel and a 5-star location. Neemrana is also one of the best destinations famous for its adventurous activities. The Neemrana Flying Fox adventure consists of 5 zip lines up to 400m long and lasts approximately 2-2.5 hours. This exhilarating activity allows you to glide serenely over the majestic Neemrana and Aravalli mountain ranges and offers breathtaking views of the Rajasthani countryside.
Overview of Zipline in Neemrana
Adrenaline junkies, rejoice! Combined with fun adventure with historical sightseeing, Neemrana Fort offers zipline through the beautiful landscape outside of Delhi. Flying at a speed of 40 km per head, this event is a happy escape. During the zipline, you will cover up to 5 different mountains, with full access to the picturesque Neemrana Fort. The best way to capture the beauty of this place is by zip lining from place to place!
It is important to note that the zip liner is a high to low performance feature. With its landscape, Fort Neemrana is the perfect place for this accompaniment. The zip line is 400 meters long and takes around 2.5 hours to complete all tasks.
The game begins with a 20-25 minute climb followed by a safety briefing and practice before the actual zipline begins. Neemrana five ziplines include Qila Slammer, Eagles Dare, Pussy Galore, Goodbye Mr Bond and Big B. At higher altitudes, this zipline offers a bird's eye view of the entire Neemrana Fort and beauty of the surrounding Aravalli Hills as well.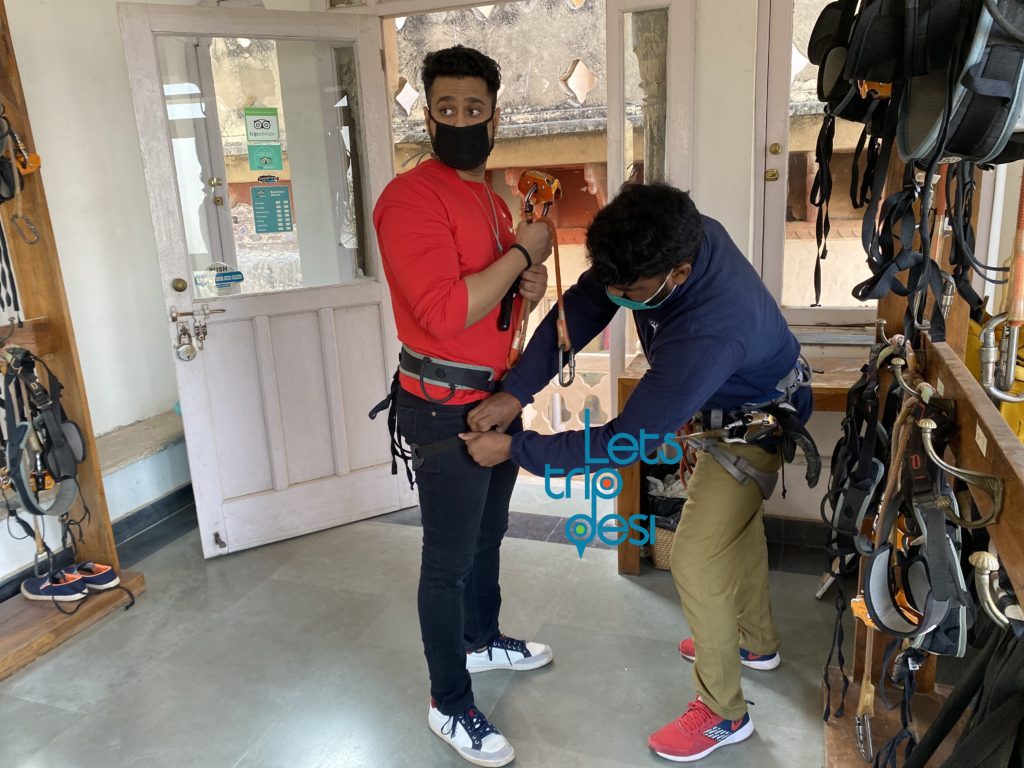 Timing and Pricing
Flying fox Zipline in Neemrana Palace, Zipline in Flying Fox covering all 5 Ziplines over the Neemrana Fort Palace with a total cost of 2400 INR Inclusive of Zipline and Treks, Opening Time: 10:00 AM all Days.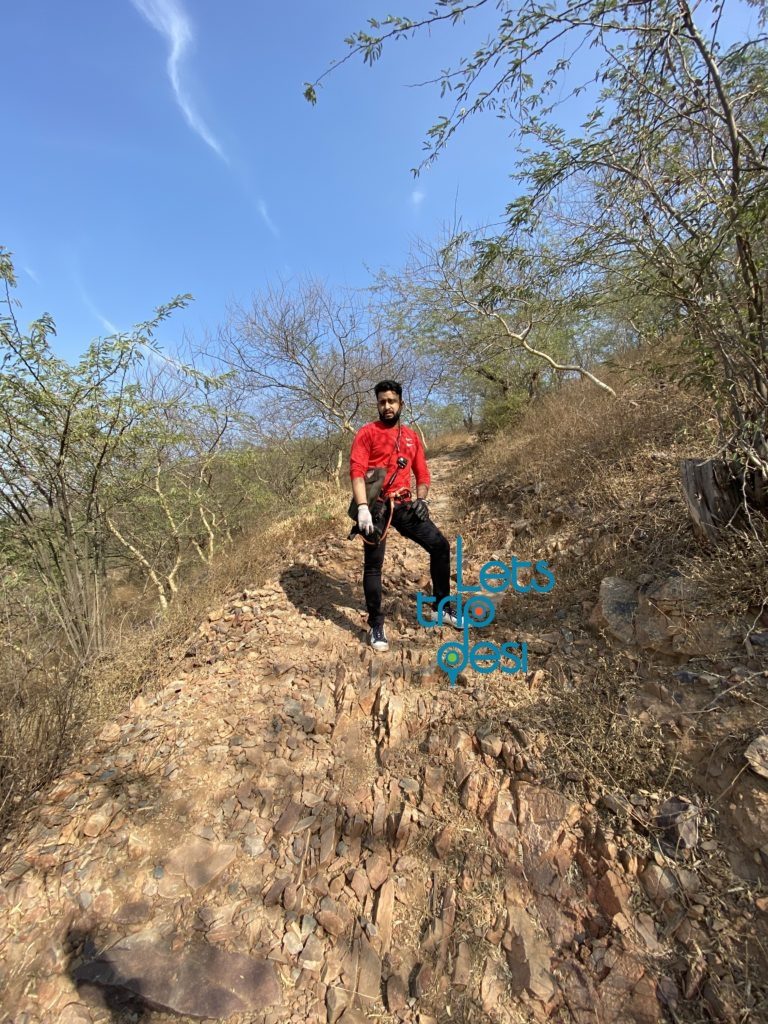 Training Neemrana Zipline
We Started Hiking at 10 AM on Christmas 2020 to reach the top of the Zipline Training Area. The training was mandatory as they teach you how to communicate for emergency or how to slow down the speed while Zipline which is necessary while Zip lining in Neemrana Fort Palace. The Hiking Itself was an adventure as well as tiring we had to trek about 30 minutes to reach the Zipline Training Centre.
 After the Training, it was the next big thing to Zipline from one place to another, as it was our first so we were nervous and a little bit scared. But it Turned out to Fun and Exciting.
Have a Look at our Video of Zipline From one Mountain to Another Managed by Flying Fox.
What to wear for zip lining at Neemrana
Make sure you have good shoes and socks. I was not allowed to zip up with sandals and found that I had to wear very fashionable loafers.
These are amazing, but absolutely worth it if I want to make them!
If you have long hair like me, you should tie it in a ponytail. Also, I don't recommend dress like dress or skirt. Otherwise, it would look funny in the harness.
As you can see, I was really prepared for the experience…
About the Neemrana Zipline Experience
This event begins with your arrival at the beginning where you get the full text and description of the text as well as the session session and the small zipline test.
The project is 2 hours for zipline 5: Qila Slammer (330m long), Eagles Dare (400m), Pussy Galore (90m), Goodbye Mr. Bond (250m) and The Big B (175m).
You can also opt for one hour service on two short zipline circuits: Goodbye Mr. Bond (250m) and The Big B (175m). if you run out of time
Two trained instructors will guide you through the zipline journey with training and 20-minute tutorials before heading to the big ziplines. These zip lines fly through rural Rajasthan and offer beautiful views of Mount Aravalli and the fortified area of ​​Neemrana Palace. Feel free to enter the free Neemrana Fort for 1 hour before and 1 hour after your zipline tour.
Know before you go to Neemrana Zipline Flying Fox Adventures.
Firstly Participants with heart disease, high blood pressure or hypertension, diabetes, dizziness, epilepsy, asthma, pregnancy or other conditions are advised to consult their doctor before participating in any activities.
The instructor has the right to reject any participant he deems unsuitable for the course.
Activities may delayed or postponed due to weather conditions. In such a case, the next best time will  known.
Participants were not allowed to carry sharp objects, lights, purses, alcohol, knives, etc. Participants must notified of the location at least 30 minutes before the chosen time.
You should listen carefully to the instructor's instructions before and after work.
Do not drink strong drinks or alcohol before or after work.
Meals or transport not mentioned in the instructions can considered as excluded from the market.
You must follow government guidelines. Manage distances. We recommend that you wash your hands often and use a mask.
A review of all guests must  made when booking and upon arrival. The PAN card not considered as proof of address.
All foreigners are required to provide immigration and visa information at time of booking and upon arrival.
Any breakage or deterioration of an item will  charged at the actual price.
Operating time is 2.5 hours.
For safety reasons, this procedure is not recommended for women over 3 months pregnant, those who have had major surgery, a broken leg/arm, back or neck pain, etc.
Only people 10 years and older, 4 feet 7 inches tall, weighing less than 115 kg and having a waist circumference of 43 inches or less can participate.
Neemrana Fort
The generous Neemrana Fort Palace is an ancient fort located in the Alwar region of Rajasthan. Surrounded by beautiful gardens and cemeteries in Aravalli, this historical site is the perfect place for a quiet getaway in the realm of history and nature. Lots of recreational attractions and activities such as landscaped gardens, swimming pools, Ayurveda spa and visiting India's first zip line can take you to new levels. Moreover, you will honored to experience the rich culture and hospitality of Rajasthan here. Neemrana Fort is one of the places you never want to miss.