Nusa Penida Island In Bali: Complete Travel Guide. Here is Full Guide of Nusa Penida snorkeling, diamond beach, Atuh , Kelingking Beach.
Nusa Penida island belongs to the Bali province in Indonesia. It has a population of around 45,000 inhabitants and covers about 200 km2. In 2010. An area of 20,057 hectare around Nusa Penida and its neighboring islands. Nusa Ceningan & Nusa Lembongan were declared a protected maritime zone. nusa penida snorkeling This archipelago of three islands was until recently mostly known for its great diving spots.
There are many beautiful islands close to Bali and Nusa Penida is one of the most popular. Located just a short boat ride away from Bali. Nusa Penida will welcome you with stunning beaches, crystal-clear water, beautiful temples and an incredible marine life. Nusa Penida Island In Bali: Complete Travel Guide. Here is Full Guide of Nusa Penida snorkeling, diamond beach, Atuh , Kelingking Beach.
After spending quite some time on this island Share with you the top things to do in Nusa Penida. Included all the must-see places and must-do activities and I'm sure that you'll create some unforgettable memories.
Good to know – At the end of this blog post, you can find info about how to get to Nusa Penida, transport on the island and some advice about accommodation.
Where Is Nusa Penida?
Nusa Penida is a small island located southeast of Bali, Indonesia. The distance from Bali is about 25 kilometers (15 miles).
Penida has two small neighboring islands sitting right next to it called Nusa Lembongan and Nusa Ceningan, but it's become the most famous of the three because of its scenic cliff views and stunning beaches.
How To Get To Nusa Penida
From Bali, the only way to reach Nusa Penida is by speedboat or ferry, with the speedboat journey taking about 45 minutes or so. There's no airport in Nusa Penida.
There are a bunch of speedboat companies making the trip to Penida daily, and they all depart from Sanur Beach in Bali at various times. If you're staying in Ubud, Canggu, Seminyak, Kuta, or elsewhere in south Bali, you can also drive over to Sanur and catch a boat. Some boat companies include a shuttle service from these areas in their total price.
Visiting Nusa Penida Island – Tourist Fee
As of 2022, there's a new entrance fee for tourists arriving by boat at Nusa Penida, and it's intended to pay for better infrastructure on the island.
You'll pay this in cash when you first get off the boat in Penida, and the fee is 25k Rupiah for adults and 15k for children. It gives you entry to all three of the Nusa islands: Penida, Lembongan, and Ceningan.
This ticket also gives you entrance to all of the main attractions and beaches on Nusa Penida, so you don't have to pay a second fee at Kelingking Beach anymore, for example.
Overall, it's a positive change, because in the past you had to whip out your wallet and pay a small entrance fee at every tourist spot in Nusa Penida. That was a bit tiresome. Nowadays, you pay once at the harbor and you're done.
What To Do In Nusa Penida
• Kelingking Beach
The Kelingking Cliff is the most famous view in Nusa Penida, and probably one of the most iconic views anywhere in Bali.
This is an incredible 'T-Rex' shaped rock sticking out over the ocean, with perfect turquoise water splashing around it. The first time you look over the edge of the cliff and see this view, it really is breathtaking!
After you're done admiring the scenery at the Kelingking Cliff, there's also a path to go down to the beach at the bottom.
Kelingking viewpoint and Kelingking beach are what made Nusa Penida popular. You can climb all the way down from the top viewpoint to the beach, which might be the most difficult beach to reach in Bali. Getting to the beach takes about 40 minutes.
The hike down to the beach is a major workout, a bit scary, and takes at least two hours roundtrip, but you're rewarded with one of the best white sand beaches in Nusa Penida Bali.
• Paluang Cliff Viewpoint
Everyone goes to Kelingking Cliff, but there's another spot located very close to it with its own amazing scenery, called Paluang Cliff. It's just a 5 minute drive from Kelingking.
Paluang may not be as well known as Kelingking, but that's part of the appeal. It's a great alternative spot that gives you views of the Kelingking T-rex from the other side, without the crowds.
There are swings and photo platforms at the Paluang Cliff, plus a Balinese temple with a quirky car shrine, called the 'car temple' of Nusa Penida.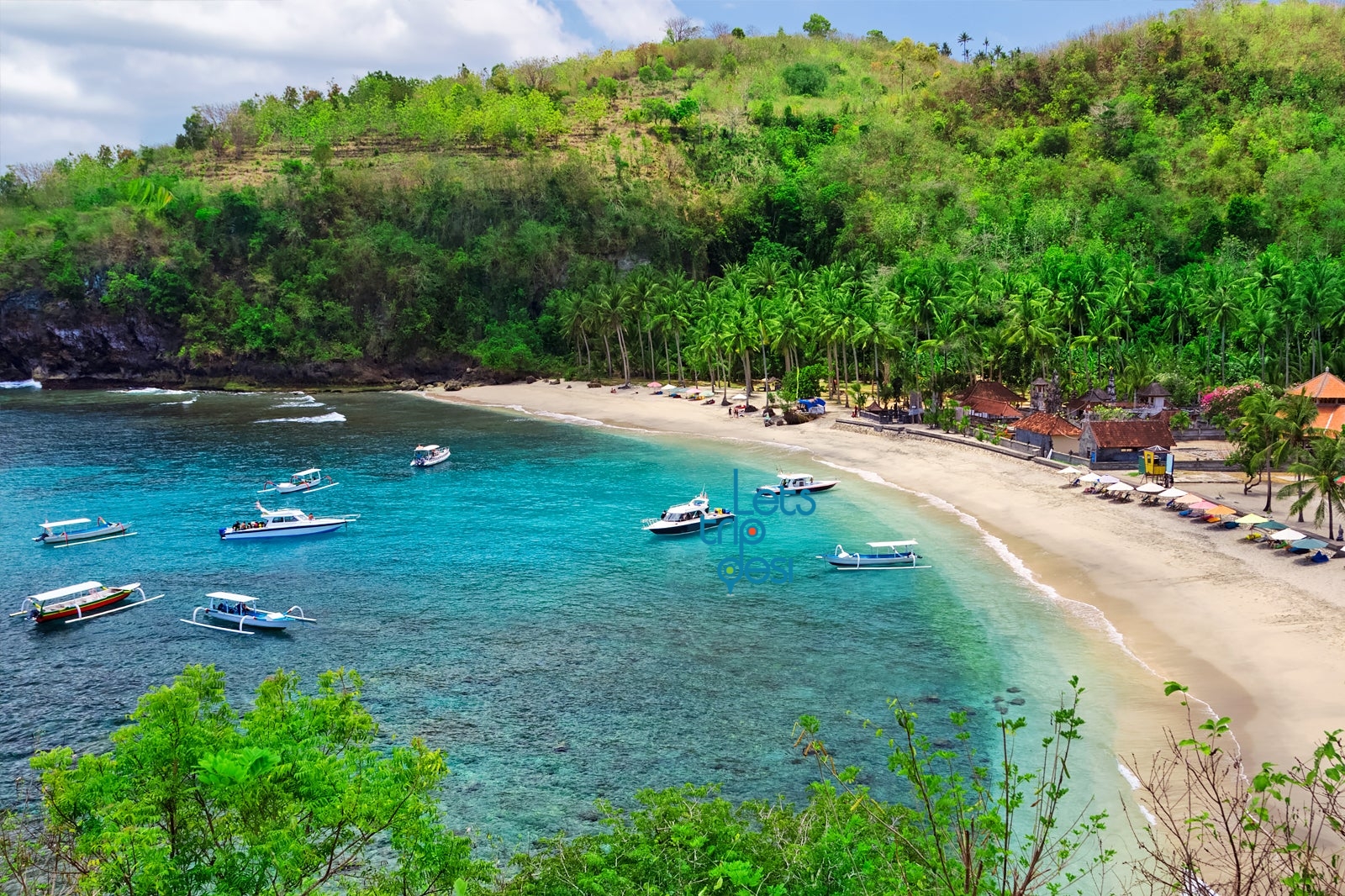 • Broken Beach
For most visitors to Nusa Penida island, one of the first stops will be Broken Beach. This is a cool circular cove formed in the rocks, complete with a leftover arch.
This area is also one of the popular hangout spots for the manta rays, so you'll most likely get to see some rays floating around in the sea nearby.
The bottom is filled with turquoise water from the waves coming in, and there's even a small white sand beach. You can't actually go down to the beach, just admire from above, but what a cool view it is!
There's a few old local legends associated with this place that say it was created either by a giant's footsteps or by an angry sorcerer.
It's definitely a very unique kind of formation that I don't think I've seen anywhere else in the world.
• Crystal Bay
One of the popular spots on the west side of Penida is Crystal Bay. This is a good hangout or suntanning spot, and it has plenty of food and drink shacks for refreshments. Snorkeling gear can be rented here, or you can just sit around and chill out while eating some chicken satay.
The great thing about Crystal Bay is that it's one of the best spots to catch the sunset in Penida. Last July, I went back here with a buddy and we sipped Bintangs with our toes in the sand while the sunset came down over the rocks on the coast.
• Banah Cliff Point
The great thing about Banah Cliff Point is that it actually has half a dozen different view points along the cliffs, and at each view point you can walk right up to the edge of the cliff and look down at the waves crashing on the rocks.
A less-known sunset spot on the island is Banah Cliff Point. Like Tembeling, it is located on the west side of Penida island and quite easy to reach.
The exact location on Google Maps.
From these cliffs you can usually see a bunch of tiny manta rays and speedboats floating around on the ocean below. You can also see the Banah rock, a doughnut shaped rock sticking out of the ocean. Great stuff!
• Tembeling Cave & Beach
The Tembeling beach and forest is a hidden spot tucked away in the cliffs on Nusa Penida's west coast, with a natural pool and small waterfall to enjoy.
Tembeling is one of the best-kept secrets on Penida and one of our favorite things to do on Nusa Penida. The sweet water pool, hidden away in the jungle is a beautiful blue watered gem.
My favorite feature of this beach is the awesome sea cave that opens up to a view of the huge cliffs on the coast, but this place is also becoming popular for the Tembeling natural pool, which you can take a dip in and relax.
The access to this beach is a bit tricky, but it's one of our favorite spots in Bali!
• Atuh Beach
This is one of the nicest beaches on the south end of Penida island. Unlike Suwehan Beach, Atuh is not a secret and there are sunbeds, beanbags, and a couple of nice food and drink shacks here.
The highlight of Atuh Beach is probably the big elephant shaped rock in the ocean (locals say it looks like a stiletto), and the big variety of sea life that can be seen trapped in the rocks at low tide.
On the eastern tip of Penida island are probably the two most beautiful beaches in the whole of Bali. Atuh is a small beach a bit hidden away because of the two high cliffs on both sides. A small walk 10-minute down the stairs is required to reach the beach.
• Nusa Penida Treehouse (Rumah Pohon)
Have you ever wanted to sleep in a wooden tree house and wake up to the sounds of the ocean? Here's where you can do it. The room and bed are very basic, but the views and location are out of this world.
You'll fall asleep to the sound of geckos chirping in the trees, and wake up to an incredible sunrise over the Raja Lima islands, with dolphins and manta rays swimming and jumping in the distance.
• Diamond Beach
Diamond Beach, named after the pointy diamond shaped rock on the beach, nusa penida diamond beach is another nusa penida diamond beach utterly incredible "cliff beach" on the southeastern coast of Nusa Penida island.
It's accessible since late 2018, when a path down to the beach was carved into the side of the cliffs. nusa penida diamond beach lizards to dolphins and manta rays.
This place is also becoming popular thanks to the scenic swing, nusa penida diamond beach where you can take pictures while swinging between two palm trees over the beach.
Opposite Atuh Beach cliff is the most picturesque beach in the world: nusa penida diamond beach. The viewpoint is the best place to see Diamond Beach. However, via the newly (2018) made stair you can now also visit the beach. nusa penida diamond beach Taking a swim at this beach is not recommended due to its currents.
• Teletubbies Hill
The center of Penida island has these big round hills named after the background scenery from the Teletubbies kids show.
They look kind of like the Chocolate Hills in Bohol, Philippines, and using a drone here gives you some unique perspectives.
If you come here during or just after the rainy season (roughly December to April), then the hills are a perfect green color.
Between April and May, nusa penida diamond beach the hills are a more yellow color, but still neat to see. During the summer however, the hills will turn dry and brown, so they won't look as nice.
A good place to watch the sunset in the area is at the so-called 'Teletubbies Hill'. Countless soft-rounded, grass hills are what gave it this name.
•Watch the sunset at Penida Colada Beach Bar
With a relaxing atmosphere and delicious food, Penida Colada Beach Bar is the perfect place to spend the evening and admire the sunset. Here you can find delicious smoothies, vegan dishes and delicious avo toast.
However, the best part is the view. From this beach bar, you can see the impressive Mount Agung in Bali. How cool is that?
• Suwehan Beach
Looking for a hidden beach with perfect white sand and turquoise waves? Suwehan is one of the best hidden beaches in Penida.
The hike down to the beach takes about 30 minutes and it's exhausting, but very worthwhile. This is one of my favorite places in Penida. There's even a cool pointy rock that looks like a Christmas tree.
This beach is a hidden gem that still isn't included in most Nusa Penida island tour packages, but you can get there with a scooter or car charter. Careful, because the road is quite rough.
• Kimanis Sunset Point
Looking for a place to watch the sunset in Nusa Penida? Head to the incredible Kimanis Sunset Point and admire a magical sunset over the surrounding hills.
I recommend adding Kimanis Sunset Point to your itinerary only if you're planning to spend more than two days on the island. Other popular sunset locations are Crystal Bay Beach and Broken Beach.
• Rent a motorbike to explore the island
Probably the best way to explore Nusa Penida is on a motorbike. You'll have the freedom to be the master of your schedule and spend as much time as you want at each place you visit. Also, along the way, you can stop wherever you want to admire the views.
When I visited Nusa Penida I chose this option and I rented my motorbike directly from the guesthouse where I was staying for IDR 80 K per day. To this, you have to add the gas which costs around IDR 10 K per litre.
• Suwehan Tree House
In 2018, the locals built some tree houses at the top of Suwehan cliff. There's four of these tree houses now, and you can stay the night in them!
Don't expect luxury, but there's an outside shower/bathroom and a small food shack for ordering meals, and the beds look comfy.
The best part is that you have a stunning view of the ocean and cliffs, and it's just a short distance from Suwehan Beach!
• Thousand Island Viewpoint
You can kill two birds with one stone by visiting Rumah Pohon and Thousand Island Viewpoint on your Nusa Penida tour.
The viewpoints is definitely one of the most spectacular spots on the island to take in the ocean breeze and spend a moment appreciating exactly where you are.
We spent a good hour just relaxing on the cliff overlooking the islands and chilling out at Thousand Island Nusa Penida.
Overlooking the whole east coast of Nusa Penida is the best from the Thousand Islands Viewpoint. Located on the same point as the treehouse. The view on the 200-meter high cliffs and white-sand beaches are just one to take in for a moment.
• Goa Giri Putri Temple
This is a Hindu temple inside of a big limestone cave, located on the east side of Penida. To reach it, you have to climb more than one hundred steps to the top of the hill.
After crawling through a tiny hole in the side of the mountain, the inside opens up to a huge cave about 300 meters long, with high rock ceilings!
Hindu ceremonies are still performed here, but it's also open to tourists. Exploring this cave is an interesting experience, for sure.
• Nyanyad Beach
This is a mostly unknown beach on the south end of Nusa Penida, with a small temple and giant hills on both sides of the beach.
The road to Nyanyad Beach is a bit tricky to find, but well worth the effort. Google Maps will try to steer you onto a wrong road that leads to a lighthouse.
Once you reach the parking area for Nyanyad, the hike down to the beach only takes 15 minutes, with concrete steps all the way, and the beach has perfect white sand!
This spot is another hidden gem that isn't included in most Nusa Penida island tour packages, although you can get there with a scooter or car charter.
• Peguyangan Waterfall
If you want to try a sketchy, remote Nusa Penida hike with steep paths to get your adrenaline going, this one is for you.
Peguyangan is a small waterfall and natural swimming pool at the bottom of some cliffs on Nusa Penida island, and you reach it by climbing down hundreds of steps on a bright blue stairway.
It's not for the faint of heart, but the ocean and cliff views here are incredible, which is why I'd rate it as one of the best hikes in Nusa Penida.
There's even a neat little ultra scenic hotel at the top of the cliffs called Waterfall Inn, with stunning views of the whole area.
Best Nusa Penida Photo Spot
It's hard to pick the best Nusa Penida photo spot, but I'd say it's probably a toss-up between Kelingking Beach and Diamond Beach. Both are amazing.
Two other great photo spots in Nusa Penida would have to be Suwehan Beach and the Nusa Penida treehouse. These are stunning, and Suwehan is still pretty underrated.
Best Nusa Penida Beaches
If white sand is the main thing you're looking for in Bali, then you'll want to check out my complete Nusa Penida beach guide, which has a list of all of the very best Penida island beaches.
Obviously there are the famous beaches like Kelingking, Diamond, and Atuh, but there are also quite a few others that are not so well known.
There are many tourist attractions, for any traveler. From relaxing activities such as spending your time at the beach to more adventurous activities such as cliff jumping and diving, Nusa Penida has it all!
Nusa Penida Hike List
Probably the most epic Nusa Penida hike is the famous Kelingking Cliff, where you can climb down a steep stairway to reach a pristine white sand beach at the bottom.
Another good Nusa Penida hike is Tembeling Beach And Forest, which has a nice mix of jungle and beach scenery, plus a sea cave and natural swimming pool.
If you really want an off-the-radar Nusa Penida hike, check out Batu Siha Beach. This is a new one I explored in 2019, and it's still untouched except for locals. The path is intense and exhausting, but there's a white sand beach at the bottom.
The hiking trails in Nusa Penida tend to be very short and intense, because you're usually climbing down steep cliffs to reach a secluded beach, temple, or waterfall at the bottom.
Unlike Bali, Penida island doesn't have any mountains or volcanoes to hike. This also means waterfalls are scarce on the island, although there are a couple interesting ones like Peguyangan Waterfall.
Snorkeling In Nusa Penida
The coral reefs around Nusa Penida snorkeling  island are fantastic. Nusa penida snorkeling and you can even swim with manta rays, ocean sunfish ('mola mola'), and all kinds of other colorful fish.
In fact, nusa penida is one of the best places in the world to swim with manta rays and giant mola mola fish. The latter can only be seen by scuba diving, but manta rays are easy to see while snorkeling near the surface.
Some of the best nusa penida snorkeling spots in Nusa Penida snorkeling include Manta Bay, Crystal Bay, Gamat Bay, and Toyapakeh Wall. It's possible to visit all of these spots in a day trip. nusa penida snorkeling There's also an underwater Buddha statue, but sadly they don't seem to be allowing access anymore.
Nusa Penida snorkeling tours can be arranged on the spot at Toyapakeh boat harbor, or it's also possible to book them online as day tours departing from Bali, nusa penida snorkeling complete with hotel pickup and speed boat transfer.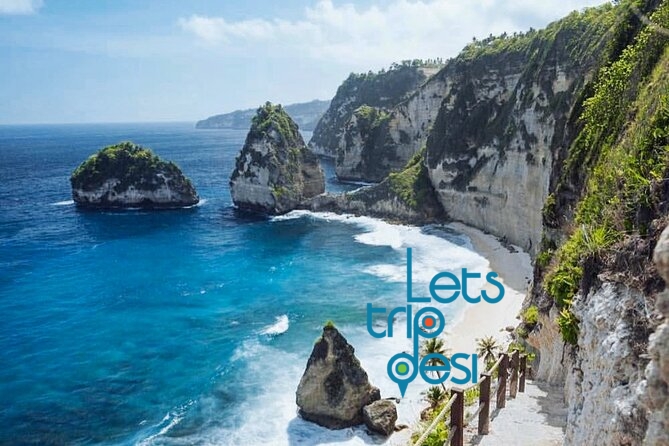 What To Bring
If you're putting together a Nusa Penida packing list. Here are a few ideas of good things to bring.
Most of the items below could probably find on nusa penida snorkeling  island in a pinch. But the quality of stuff you buy on the street won't be guaranteed.
Waterproof Bag: Essential for keeping your electronics safe on the boats. nusa penida diamond beach I brought a 30 liter bag and was able to fit my drone, tablet, camera, phone, and a bunch of other stuff inside. Everything was kept dry, even when I took the bag swimming a few times!
Waterproof Phone Pouch: Same as above, but these are for your phone only. Great if you don't have other electronics and just need something small to protect your phone with.
Snorkeing Gear: Many of the areas around have nice corals and fish. Nusa penida diamond beach and you won't want to miss out on them. Snorkels and masks can be rent on the boat too. But if you plan to do multiple tours it's more economical to bring your own gear.
Water Shoes: Save your feet some grief and wear water shoes! We got some cuts while walking to shore from the boats.
Nusa Penida Restaurants
The flurry of tourism is bringing lots of new restaurants and cafes to Nusa Penida. So now it has a bunch of great options!
Here are just a few of our restaurant recommendations:
Penida Colada: This was one of the first great restaurants on the island, with a big menu, beach vibes, good food and good presentation. Plus the name is cool!
Secret Penida Cafe: Another nice beachfront cafe in north Nusa Penida with Western and Indonesian food.
Penida Espresso: Best smoothie bowls on the island, and they're very reasonably price. Nice for a hot day.
Sweet Spot: One of the first indoor cafes on the island with air-conditioning! Great breakfast here.
The Chill: Ocean view pool with no minimum spend! Nice atmosphere with a wade-up bar and swings.
Amok Sunset: Fancy cliffside restaurant and bar with a pool, and great sunset views over Nusa Ceningan.
Warung Nengah Mesin: Mother's cooking. Simply delicious. This is a local warung in the south part of the island. So it's easy to reach from many of the major sights.
Nusa Penida Massage & Spa
Nusa Penida doesn't have a lot of massage places compared to Bali. But I'm sure that'll change over time as more tourists arrive. A foot massage is the perfect way to unwind after a full day of hiking or touring.
One of the best massage places in would have to be Tejas Spa Warnakali. Which has ocean views and is part of the Adiwana Warnakali Resort. You don't need to a guest at the resort to get a massage there, it's open to the public.
For budget spa and massage places in Nusa Penida, you can check out Little Papaya, Juara Spa, and Dhipalia Massage.
Also Read : 21+ Stunning Visiting Places in Bali Indonesia Island
Where To Stay In Nusa Penida
Boasting a restaurant, free bikes, and a garden, Crystal Bay Villa & Residence features accommodation in Nusa Penida with free WiFi and pool views.
With garden views also available, this accommodation provides a balcony and a swimming pool.
The air-conditioned villa consists of 1 separate bedroom, 1 bathroom with a hairdryer, free toiletries, a seating area and a flat-screen TV.
Guests at the villa can enjoy an à la carte or an American breakfast.
Languages spoken at the 24-hour front desk include English and Indonesian. Bicycle rental service is also available at the accommodation.
Situated in Nusa Penida, Singabu Bungalows offers air-conditioned accommodation and landscaped tropical gardens.
It has an outdoor pool with a shallow end and free WiFi in all areas.
At the property, each room comes with a wardrobe and a flat-screen TV. The rooms have a terrace with views of the pool or the garden. Private bathrooms all come with a shower.
Coco Leaf restaurant serves a variety of international dishes, and room service is also available.
Set in Nusa Penida just 0.7 miles from Sampalan Harbour. Deva Devi Beach Inn offers express check-in and check-out, non-smoking rooms, a restaurant, free WiFi and a garden.
The property features a bar and a terrace. The accommodation provides a 24-hour front desk, room service and currency exchange for guests.
All guest rooms at the guest house come with a seating area.
At Deva Devi Beach Inn all rooms also come with a desk, a flat-screen TV and a private bathroom.
For more places to stay in Nusa Penida, you can check the latest prices on
Other Nusa Penida Tips
Credit Cards: Almost all restaurants, hotels, and other charges in Penida are cash only. Best thing to do is bring plenty of cash with you from Bali.
ATM: Penida still has very few ATM options. The most reliable seems to  the Bank BRI booth at Sampalan. But it only lets you pull 1 million Rupiah per try.
Cell Service: Phone reception is strong with Telkomsel in most of the main areas of Penida. Although you may lose service in some places while driving around because of the hilly terrain of the island.

WiFi: The WiFi situation in Penida used to very poor compare to Bali. But it has improved dramatically in the last few years. So most hotels already have good WiFi that can use for browsing, streaming videos, and sending emails.

Convenience Stores: There are lots of small mini marts. Especially around the north shore, where you can buy cheap snacks, drinks, toiletries, sunscreen, and other such things. Sari Yoga Mart and Bagus Mart are two good options. However, their selection is much smaller than what you'll find shopping in Bali.
Language: The locals in Nusa Penda speak Balinese with a distinct dialect. And although many of them also understand Indonesian, they're not school in English (unlike in Bali). Tonly know a little bit of English that they've able to pick up from tourists. So patient and come prepared to explain things by pointing or showing pictures.
Mosquitoes: There is some dengue fever present in nusa penida snorkeling. But it seems to less common than in Bali, which is probably because of the drier climate in Pnida. You won't need bug spray for visiting the beaches or really any of the popular tourist sites. But we have seen mosquitoes at the Tembeling forest and Goa Giri Putri. As well as near some of the hotels. Thankfully there is no malaria in either Penida or Bali. So you don't need to worry about anti-malarial medications or anything like that. The entire Bali province is certified malaria free according to this Lancet study from 2018.